Branch Blog - New York, NY
Fri, June 27, 2008 • Hot Child In The City
Hot time! Summer in the city! Back of my neck getting very unclean and rough. Julia, AKA Lady Lovely, enchantresses and muse extraordinare,
brings us back to the Summer of 1977 In New York! High temperatures! High crime! Rising hemlines! Photos by Dr. Simon, wizard of Park and 73rd.
Your hosts, Molly Crabapple and John Leavitt, dancing queen.
The fan is very important. The weather decided to play along with record-breaking temperatures and humidity so thick it was like drowning in
soup. Pigeon soup.
Hey look, it's the inside of Dov Charney's head!
I think this was for a contest involving Harvey The Dog. At least I hope it is.
I wonder if she feels love?
We wanted to fill the stage with 70s-era graffiti but since we're not talented artists or anything, we had to settle for a "bathroom wall"
look. Classy!
See, classy!
WISCONSIN REPRESENT!
And contests! Of course.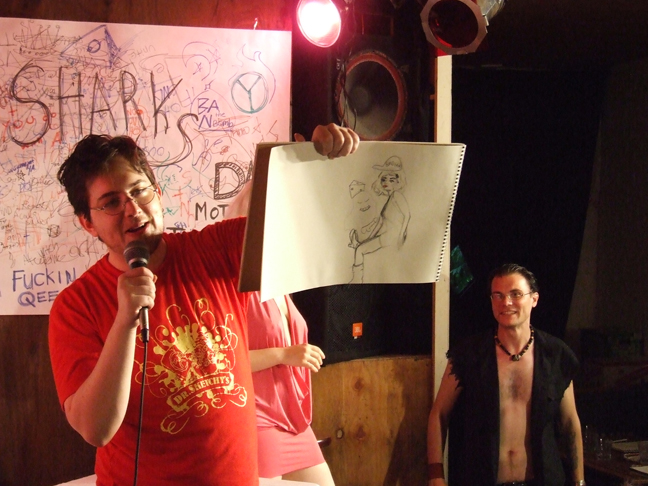 I forget why we had "cheese" as a contest and now I don't think I want to remember.
People WON these contests! They won things they can OWN! Some people won delicious booze.
Other people …won martial aids from Babes in Toyland!
Like this guy! Oh his clitoris is going to be so stimulated!
And that's it! Time to sweep up before the 80s come in and ruin everything! Thanks to Lady Lovely, Steve, Eve, Syd, Dr. Simon, Hillary, Mike
and all art monkeys everywhere! Come back next week when we'll teleport to the 60s for some Star Trek: Original Flavor and Femme Appeal as Lt.
Uhura!
-JL
SUMMER SUPPLEMENT!
Fitting the theme, the oppressive heat was broken up a booming, Olympian thunderstorm. Being responsible adults, we all ran outside and danced
in the rain. Justin Lussier presents the dripping aftermath.
Julia has long dark hair In Real Life, but she put on a short blonder wig for the first half. We know that, if nothing else, art monkeys
demand HISTORICAL VERMISSILITUDE here at Dr. Sketchy's.
And more photos from the esteemed Justin
Dr. Sketchy's presents …POINTING!
Groove thing in process of being shook.
I wonder if it's her last chance for romance?
Steve Walker, the man behind the scenes. Er, scene. Whatever.
Thanks Justin!
-----
RSS
NYC Events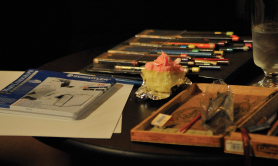 Art Tumblr