Branch Blog - New York, NY
Fri, June 13, 2008 • Hotcha!
Dr. Sketchy's presents a tribute to a webcomic nobody reads! Our webcomic: Back Stage! Created by Molly and myself, it's a rousing tale of sex, murder, and newspapers in 1904 New York. Now that saucy ragtime and hide the virgins as Lukki and Melody Sweets give you the best of the Gilded Age!
Lukki is playing Scarlett O'Herring, a fading vaudevillian, and Melody is Minetta Lane, the scheming ingenue! They re-created the costumes for the infamous "last dance" sequence.
Down to the poses! The sequence can be seen here. http://act-i-vate.com/40-1-14.comic
Our erstwhile hosts! John Leavitt and Molly Crabapple! Behind us is a copy of the newspaper that our fictional counterparts work on. It's Meta Meta Meta!
And now… more not-drawn girls!
Grrr! Die die die!
And we had prizes! Like this!
A whole book of Kirby art! From that "other" Golden Age of something.
Oh, we love parasols here. We love them SO MUCH.
Even the lighting is an elaborate in-joke! Oh, we amuse ourselves.
Happy are the art monkeys!
And that's it! Thanks to Lukki! Melody Sweet! Dr. Simon! Justin! Syd! Eve! Hillary! Steve! Everyone at the lucky cat! and Act-i-vate.com for hosting our perverted toon.
From everyone at Dr. Sketchy's, Thanks!
-----
RSS
NYC Events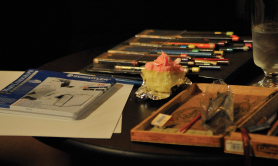 Art Tumblr
Dr Sketchy's LA 12/3/13 (pt. 1)
artofach.blogspot.com
http://drsketchy.tumblr.com/post/69132640329