Branch Blog - New York, NY
Fri, February 03, 2012 • How does your Arden grow?
Did you miss our last session with Arden Leigh posing as Madame Récamier? How could you? Are we just not important to you? Are you seeing someone else? Oh, God, you are, aren't you?
Despite your inconsiderate behaviour, Keith Jenson has provided us with a video of the session.
RSS
NYC Events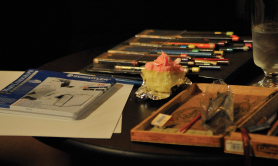 Art Tumblr
Dr Sketchy LA 12-3-13
http://drsketchy.tumblr.com/post/69027079376