Branch Blog - New York, NY
Tue, August 24, 2010 • Hungry Like the Wolf
Why, Art Monkeys, what big eyes you have!
Back at Parkside Lounge, we had another Dr. Sketchy's session, this time with Delysia La Chatte posing as the Big Bad Wolf, though she's not that big, and she's certainly not bad.
Here we see the famous scene where the wolf, disguised as the grandmother entices Little Red Riding Hood by showing a little leg. Unfortunately Red starts to see through the ruse. She says, "Grandma, what sexy gams you have!"
But the crafty bzou merely replies, "All the better to stand on, my dear. Now finish your meat and wine and come to bed."
In a slight departure from the original story, Ms. Wolf then removes her top, but then I suppose each storyteller puts a bit of himself into the story.
The original story of the Big Bad Wolf is a cautionary tale, warning not to be too trusting of strangers, or, more specifically, if you go to bed with a strange man, he may turn out to be a lunatic who murders and eats you and your grandmother. We asked our art monkeys to illustrate the moral of our session. The morals ranged from the inexplicable...
to the health-conscious...
to something I don't think any of us can argue with.
So, until next time, good night boys and girls.
RSS
NYC Events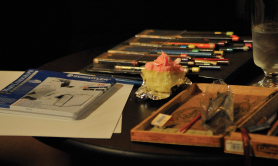 Art Tumblr
https://vimeo.com/81362468