Branch Blog - Washington, DC
Fri, March 22, 2013 • I am soooo behind!!
Hello Dr.Sketchy's Peeps! I have a whole lot of catching up to do, YIKES! We had our first session in our new "home" Chief Ike's Mambo Room (how awesome is that name) and it was AMAZING! Jam packed with artists, our model, Candy del Rio , was phenominal and Chief Ike's is a great place! Good food, great drinks and the nicest staff! I am going to post pictures of the session as soon as I can figure out all the quirks of my new computer....yeah that is the other reason I am behind, My old computer died and took all my stuff with it, bleh. Needless to say I am not getting along with Windows 8 so I am slow in getting stuff up right now! Now, since our first time at our new venue was incredible, I was stumped as to how to make the next session even better......so I dug deep and VOILA! Dr.Sketchy's DC is going to be at the Awesome Con DC for one hour and it is a FREE session with 2 models!!! Whoa, I know, way too cool. I am gathering details and will have a flyer and info posted soon. Keep checking in!
RSS
NYC Events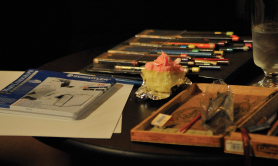 Art Tumblr