Branch Blog - New York, NY
Fri, April 17, 2009 • I Want to Have Your Baby Tattoo!
All of us here at Dr. Sketchy's Anti-Art School are simply gaga over our new sponsor, Baby Tattoo. It has come to our attention that some of you are not aware of Baby Tattoo, and therefore have not been exposed to their spectacular books. Some of you may believe that Baby Tattoo is the infant son of a minor X-Men villain. Actually, that would be baby Tatsuo, but that's an easy mistake to make.
I know what you're thinking - "Wasn't he that weird artist guy who slept with Betsy Braddock?" No, you're thinking of Matsuo. And really, he had an affair with Kwannon, who switched bodies with Betsy Braddock. I know, everyone was confused by that story arc, but to be fair, the continuity was a bit messy when Fabian Nicieza took over writing, and I think he did a capable job of sorting it out without completely undoing what Clairemont had done before him. But that has nothing to do with Baby Tattoo.
Baby Tattoo publishes books by weird artist guys (none of whom have slept with Betsy Braddock). Above, you can see me holding the book Wicked Nursery Rhymes by Gris Grimly. Gris Grimly is a remarkable artist, whom I would describe as sort of American McGee's Roman Dirge. This book, as well as other books by such notable artists as Ragnar, Seonna Hong, and Justin Jorgenson, is avaible at babytattoo.com.
Really, I could go on and on about how much we at Dr. Sketchy's love Baby Tattoo, but the time that you spend reading this blog could better be spent familiarizing yourself with the books published by Baby Tattoo. So go.
-----
RSS
NYC Events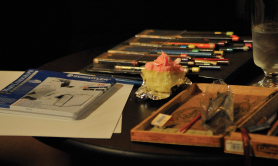 Art Tumblr
Dr Sketchy's LA 12/3/13 (pt. 1)
artofach.blogspot.com
http://drsketchy.tumblr.com/post/69132640329