Branch Blog - New York, NY
Thu, August 02, 2007 • Ich bien en Berliner
Mein Lieblings! Madams und mein Hierrs! Willkomen, Bienvenue, and welcome to ze Dr. Sketchy's Re-cap!
Outside it is…summer, but in here it's so…cool? Okay, this isn't working. None the less, this week Dr. Sketchy's turned the Lucky Cat into the Kit-Kat Club and enjoyed the decadance of the Weimar Republic! A far-away time where rising inflation created a dizzy anything-goes atmosphere where the dwellers of a once-great empire performed for rich tourists! Funny how distant the past can seem…
And now, two ladies!
Gal Friday!
und Amber Ray! It's a voluptious panic!
Mein Gott, aren't they lovely? This is what went on inside Evelyn Waugh's head. All photos by Ryan Roman, who is a little decadant empire of one.
Your hosts! here to serve you with the blank faces of silent film! It's funny, I've worn *less* on stage before, but something about the suspenders just made me feel so ……..dirty. Well that and the 5 pounds of glittery makeup I had on. That contributed.
lets try another shot…
Ahh, thats better. And check it out. nipples! Take that obscure NYC liquor laws! And Molly Crabapple, the toast of mayfair, looking like she's just survived a crash in the TARDIS.
And of course, art! We can't just put girls on a stage without a thin pretense. That would make an entirely *other* kind of cabaret.
And contests! Best drawing of the model in a Modernist style! it was Munchariffic!
Each and every one a virgin! *rimshot*
Lower right hand corner. Art supply case ….an old coffee can.
Our crowd is a scrappy and resourceful crowd!
Unlike the real Weimar Berlin, we don't have to face a growing economic downturn coupled with paranoid xenophoia, restrictions on travel, and a growing militaristic nationalism with a "return to decency" motif. Whew!
And while it was a perfectly marvelous time, we must now say goodbye to Berlin! Thanks to Amber Ray, Gal Friday, Steve Walker, Ryan ROman, Syd Bernstein and everyone who came out!
Guten Nachten! Bonsior! Good evening!
-JL
-----
RSS
NYC Events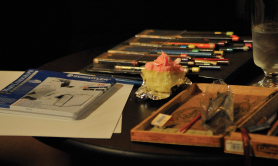 Art Tumblr
https://vimeo.com/81362468