Branch Blog - New York, NY
Wed, August 13, 2008 • If You Are A Viper
With Molly Crabapple out of town, we here at Dr. Sketchy's can do whatever we like. Like a tribute to illict substances and 1930s drug culture! And who better to kick the gong around with than our very own Maui Wowie; Melody Sweets!
Aloha oh boy! Melody left us dazed and confused to say the least.
She looks like she's casts a spell, here.
Your chemically enhanced host, John Leavitt. One set of glasses to see. Another set of glasses to BE. Man.
NOM NOM NOM.
Take *that* Mayor Bloomberg!
Oh if my experiences in college are anything, this will not end well.
One of our …STUNNING prizes! The Modern Gentleman: A Guide to Savvy, Manners, And Vice. Cause if there is one thing we at Dr. Sketchy's support, it's Savvy Vice.
People also won books and t-shirts and …pornographic housewares. I was supposed to gather more stunning prizes, but it got late..all of a sudden, and I was playing video games and this movie came on and …man, you know? Stuff.
Steve Walker, putting on a good show of not being disgusted by all this.
Two winners down their Birthday Cake shots. The Shots that the bartender Dave kept giving out. Because he's the devil.
And that's it! Thanks to Melody Sweets! Syd! Hilary! Steve! And a very special thanks to Dr. Simon, who I forgot to thank at the end of last session and has never let me forget it. Mea Culpa.
Dr. Sketchy's is on Hiatus til September, when we'll do a va va voom tribute to Vegas!
-JL
-----
RSS
NYC Events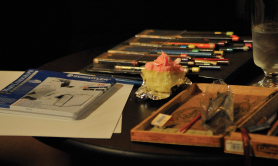 Art Tumblr
Dr Sketchy's LA 12/3/13 (pt. 1)
artofach.blogspot.com
http://drsketchy.tumblr.com/post/69132640329