Branch Blog - New York, NY
Wed, April 07, 2010 • If you like it, then you should've put three rings on it.
Ladies and Gentlemen and Art Monkeys of all ages! Welcome to Dr. Sketchy's Anti-Art Blog!
Last week, we were privileged to have an entire circus consisting entirely of the beautiful and supremely talented Dame Cuchifrita!
To warm up, we have a classic glove-removing act. Sad to say, glove removing has fallen out of vogue in recent years, and many fully trained glove removers are having trouble finding work.
The next act was the flying trapeze. Usually, this is performed high in the air, but only a true expert acrobat can perform with her feet on the ground.
It sometimes gets very hot up there, so the trapeze artist had to remove some of her clothes.
This act is also remarkable because it uses rope so fine that it can't be captured on camera.
The fire eater came out to inspire the Left Handed Drawing Contest.
Due to the limitations of photography, that may look like it's some sort of fabric, but it's really fire.
The Dr. Sketchy's crew also came dressed in circus costumes.
Except for Molly, who's too good for that sort of thing.
When the magic act came on, a contest was held to turn the model into an animal. For the record, this was NOT an attempt to appeal to a furry fanbase, although that doesn't mean that we disapprove of furries or their weird, creepy fetishes.
First up was a tiger. How very Siegfried and Roy!
Next - tentacles. How very Japanese pornography!
Then there was a giraffe. How very… Hey it's a giraffe!
Surrealists love elephants. I don't know why.
And finally a lion. If someone had drawn a bear, I would have had a really great Wizard of Oz joke here.
The prize for this contest was the best animal of all: a stuffed one from Squishable!
As the magic act continued, some tricks were performed, but the real magic? The love spell she cast on us.
During the twenty minute break we had a special guest performance by the absolutely incredible Kim Boekbinder. If you ever have the opportunity to listen to her music, you should take it, at any cost.
The final act of the evening was a lion tamer. Yes, that's what she uses the whip for. Lion taming. Only lion taming.
However, as you see here, sometimes whips aren't enough.
As this was our last act of the evening, we asked the artists to incorporate into their drawings any sort of circus acts we may have missed.
Starting off conventionally, there was elephant riding.
Also a pair of strongmen.
Glam rock.
I don't know what this is, but I'm scared.
And, because someone had to do it, sadomasochism.
Here are the artists enjoying the drinks that they won as prizes for the contest.
And here are the drinks and a lightbulb making a clown face.
That's it for this session! Thank you to Molly, John, Justin, Melissa, Foley, Keith, Dolce, Hilary, and Beth. We'll see you next blog!
-----
RSS
NYC Events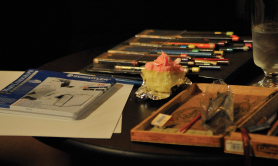 Art Tumblr
https://vimeo.com/81362468