Branch Blog - Baltimore, MD
Sun, June 27, 2010 • La Bellissima Maria Bella
We have a new winner for my favorite photo ever taken at a Dr. Sketchy's Baltimore.  Russell should just go ahead and give Maria Bella his scooter, 'cause honestly, it looks hotter with her on it. This was our official Two Year Anniversary session!  If you missed it, well, you should just sit down right now and cry like an itty-bity-witty baby because Maria Bella, "Baltimore's Sicilian Princess" and founder of
Gilded Lily Burlesque
, was absolutely gorgeous---if she had been a snake, not only would you have NOT missed her in the grass, she would have had her own late-night SciFi Channel movie where she gobbled up an entire village in the Congo or something. And there were cupcakes from
Sweet Sin Bakery
!
Before we got the ball rolling, we had a mini-contest at 6:50 for a rail drink.  The question was, "Can you name another member of Gilded Lily besides Maria?"  Some lucky fellow in the back shouted out Sable Syn Cyr, which, while not currently correct, got "old school" points since she was a member until she moved to Wisconsin a little while ago.  Plus, her picture was on the wall, so who are we to be sticklers? With that, Maria Bella took the stage and the 1 & 2 minute poses began.
Our first contest contest of the evening---well, I guess it was the second---was the good ol' "If you're right-handed with your left, if you're left-handed draw with your right, and if your ambidextrous, your calling is Kung-Fu, not drawing burlesque performers".
A few more five-minute poses...
Next up were the ten-minute poses.  The first pose was our third contest which was the best incorporation of an accordion with the winner receiving a $15 gift card from
Atomic Books
in Hampden, on Falls Rd. just off the Avenue.

R. L. May III
The second ten-minute pose was the one we dragged Russell's moped up onto the stage for.  You'd think that wouldn't be too difficult, but that stupid thing must weigh a ton.  It got up there after a fair amount of cussing though.
Visions From Within the Mechanism: The Industrial Surrealism of Jeffery Scott
from
Baby Tattoo Books
. The weekend before Dr. Sketchy's, Alexis, Maria, and I took a trip to Asheville, NC for the
Asheville Burlesque and Sideshow Festival
.  Maria was performing and since my folks live in Asheville, carpooling seemed the cheapest and funnest way to mosey down there.  Not only that, but the ten-hour car ride gave me plenty of time to run on at the mouth at excruciating length about the local fauna, so Maria would be prepared if a wild boar tried to chew off her leg or a snake popped out of her salad.  (She actually saw 4 snakes over two days, though it was probably 2 snakes seen twice---wait, one of the performers was carrying around a snake, so does that make 5?  I suppose it's not important.)  Anyways, this may sound like Jager-induced paranoia, but forewarning tourists is what stops people's babies from being carried off by bald eagles and shit. What we were talking about?  Oh, drop bears.  One of the many carnivorous hazards of my fair home state is the wily  Drop Bearfirocicus.  A sub-species of the normal mountain black bear, drop bears are basically black bears that are soooo fat and lazy they eventually get tired of killing mooses (meeses?), elk, and raiding old ladys' trash cans.  Instead, the climb up in a tree and wait, sometimes for days at a time, until some tourist, park ranger, or teenagers looking to have sex in the woods walk by and then BLAM, they fall right out of the tree and squish them flat with their big ol' butt. I'm telling you, it's a god-damn zoo down there. Knowledge is half the battle, folks. So, best incorporation of drop bears . . .

Ben Carnow (winner)
Last up for the evening was a final 20-minute pose and a contest for the best incorporation of the World's Cup with the prize being a slick frame from
Artist & Craftsman Supply
which is just across the street on the corner of North and Howard.  (They're open till 8 too, so if you forget your art supplies, for God's sake run over there and tell them you came from us.)

Liz Beetem

Ben Carnow
RSS
NYC Events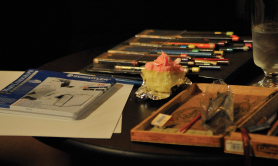 Art Tumblr