Wed, April 11, 2012 • In Your Face Cupcakes with Cupcake Burlesque
The Sketchiest Event in Punta Gorda...and You're Invited!
Are you an artist, or do you want to be one? Art lovers of ALL skill levels are invited to attend Dr. Sketchy's Anti-Art School at In Your Face Cupcakes | Beer Wine & Coffee Bar and experience what is easily the most exciting and creative alternative life drawing session in SW Florida! This isn't the standard life drawing night you're used to. We encourage (responsible) drinking, socializing, snacking on tasty treats and we encourage wild cheers and applause to show appreciation for our models! So, grab your sketch pads (iPads welcome), sharpen your pencils, have a cupcake or three and lets make some Art!
Join us for the Sketchiest Event in SWFL! Dr Sketchy's SWFL Branch is Re-Booting - Bigger and Better than before! To Kick off our Reboot we're going to shake things up a bit...First off, we will be holding our event at In Your Face Cupcakes - Beer Wine & Coffee Bar! Next we are switching nights! We are going to be holding our events the Second Wednesday of the Month. You do NOT want to miss April's event, to kick off our New Location / New Night will be featuring not one but TWO of South Florida's "Sweetest" Burlesque performers of Cupcake Burlesque on stage for your sketching pleasure! The evening will feature performances by Candy Muldune and Mademoiselle Rowdy Pants who will then all do a variety of timed poses for you to sketch to your hearts content!
Cover Charge: This will be a Burlesque Performance AND Drawing Event so we are asking $8 in advance and $10 at the Door. FYI: Future (non-burlesque) events will be $5 in advance and $8 at the door. (18+ to Draw / 21+ to Drink)
What to Bring: You will want to bring a drawing board, sketch pad or something sturdy to draw on as sometimes table space is a bit limited....also, any dry materials (or super quick drying medium as poses are sometimes quick) - such as colored pencils, markers, charcoal, pencil, etc. We will be doing a series of short poses (1, 2 and 5 minutes) and then work up to some longer 20 minute poses. Models will typically be costumed or wearing clothing to a point, as this is not a nude drawing session. Tipping of the model is encouraged.
Location Location Location: We are holding our event at In Your Face Cupcakes located in Downtown Punta Gorda at 117 W Marion Ave. It is located behind River City Bar and Grill via the walkway between Pomegranate & Fig and the Sea Grape Artists Gallery.
Where to Park: Parking is on Street however there are no parking meters to worry about. Preferred Parking is along West Marion Ave (Parallel Parking) or in the parking spaces or Parking Lot traveling north on Taylor Road. Traveling south on Taylor Rd there is the new Parking Garage or in parking spaces at the Old Charlotte County Court House or along Herald Ct.
Photography: Dr Sketchy is primarily a Social Drawing Event however we do welcome Photographers from time to time. Be Respectful. Different Models will have different requests regarding photographing them during our events, we will try to provide this information before the event and go over it again during the event. If you are invited to take pictures during our events please make sure to share copies of the photos with the models and also with Dr Sketchy SWFL. If you are one of the Artists drawing during our events, please be mindful of when the models do not want to be photographed before taking pictures with your camera phone - we want them to keep our models happy.
In Your Face Cupcakes: Cupcakes range in price from $1.50-3.75. Wine starts at $2.00 and Beer starts at only $1.00. Also available grilled flat bread pizzas made with organic ingredients. Call 941-505-CAKE for more information or to pre-order specific flavors. Website: http://www.InYourFaceCupcakes.com/
Contact Information: Contact Heathyre & Brian via email [email protected] or leave a message on our 24/hr voicemail: 941-882-0677.
Websites:
http://www.DrSketchySWFL.com/
http://www.Facebook.com/DrSketchySWFL
http://www.Meetup.com/DrSketchySWFL
http://www.DrSketchy.com/branch/SWFlorida
RSS
NYC Events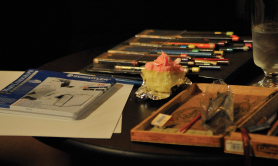 Art Tumblr
Dr Sketchy's LA 12/3/13 (pt. 1)
artofach.blogspot.com
http://drsketchy.tumblr.com/post/69132640329