Branch Blog - Chicago, IL
Thu, February 16, 2012 • It Hurts So Good…
February 5th was the Anti-Valentines Anti-Art School, Chicago Sketchy's style!

We served up a hot dish in the form of the super-sexy and statuesque Stella LaRocque. Then, we got tongue-tied and knots in our stomach after the achingly sensual Dottie La Vie performed a sexy, strappy burlesque number.
Who needs a heart when hearts can be broken?
Photos by Dottie La Vie. Drawing by Archangelo Crelencia.
RSS
NYC Events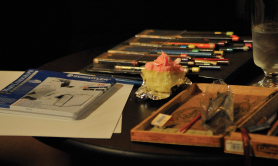 Art Tumblr