Branch Blog - New York, NY
Mon, March 01, 2010 • It's-a Da Pope-a!
Greetings, Art Monkeys! It is time for another installment of our Art Star series, saluting Molly's artist friends who are way more famous than you could ever hope to become. Today's honoree was none other than comics legend Paul Pope. For those of you who are not familiar with Mr. Pope or his work, this is what he looks like when he is drawn by himself:
For this session, we transported the fabulous Melody Sweets into his dark world of gods and monsters and samurai and hallucinogenic explosives.
Melody's hat is actually made of Tri-Hydro Bi-Oxygenate, and when wet, it expands to become a huge purple monster man. That never actually came up during the session.
Unfortunately, Melody's longtime companion Harmony was unable to make it to the session.
The Left-Handed Drawing Contest once again showcased our artists' skill even without the use of the appendage with which they normally draw.
The winner received this adorable book, which is really making me hungry.
Look out, Melody! The audience is right behind you!
Here we see an artist making a multitude from a single model.
Melody is clearly unamused with the audience.
In order to win this insanely awesome penguin from Squishable, our audience was challenged to draw the comic-bookiest depictions of the model they could.
Here, Melody is Wonder Woman, defeating some Kirbyesque monsters.
In this drawing, she is on the opposite side of the law. The penguin tries in vain to stop her from breaking into a bank. She mockingly calls the penguin "Puffin." That must hurt.
Here, she only has one chance to prevent the destruction of the human race, but unfortunately she made the unwise decision of pitting herself against comic geeks, who would be deciding the winner of the contest.
In this drawing, the model is crowded out by word balloons.
The contest's winner, naturally, was a showcasing of the Most Common Super Power.
Molly looks lovely wearing a feather boa and holding flowers that symbolize not only her dualistic nature, but the purity of her fragile beauty.
Ditto for John.
There on the right is Paul Pope. On the slightly less right is Melody Sweets. In the middle is Molly Crabapple. Next to her is Kimberly Cox. And you may be wondering who that is on the left. What are you dense? Are you retarded or something? Who the hell do you think it is? It's the Goddamn Frank Miller.
Toward the end of the session, Melody donned a black mask and cape and fought crime in the future.
For the drinking contest, our artists were asked to incorporate Batman villains.
In the first entry, The Ventriloquist walks in on Scarface about to have his way with our heroine.
Next, The Penguin lets loose his deadly army of flightless aquatic birds!
There seems to be no way out of Catwoman's sinister death trap.
However, Melody emerges victorious over not only The Penguin and Catwoman, but also The Joker, Two-Face, and The Riddler.
In this twist on the theme, Melody joins The Joker's gang.
This entrant was automatically declared a winner, due to its use of one of my personal favourite Batman villains, The Clock King!
And a good time was had by all!
Special thanks to Paul, Molly, John, Melissa, Justin, Dolcy, Foley, and Beth. I'll see you again, with more pictures!
-----
RSS
NYC Events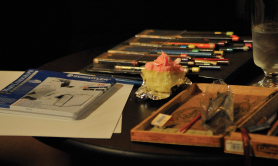 Art Tumblr