Branch Blog - Washington, DC
Thu, September 13, 2012 • IT'S ALIVE!!!! Dr.Sketchy's DC is back and it's coming for you.
AHHHHHHH! Dr.Skecthy's DC is alive and finally back in DC proper!!!!! I am Reverend Valentine and I am beyond excited to be a part of the Dr.Sketchy's family. I will be hosting bi-monthly sessions at The Red Palace (formerly The Palace Of Wonders) and hope as this gains popularity and press that I will be able to increase the frequency. I can't think of a better venue to host this event in. With it's spectacular sideshow collection and unique interiors, The Red Palace is a perfect backdrop for the bevey of beauties I plan to have captured there....only on paper of course
We will be kicking off during my favorite holiday season, Halloween! Our first date is Thursday, October 18th at 7:30 with the GORE-geous Eyrie Twilight! She will be modeling and performing her spooky hottness for our viewing pleasure.
I hope to make this branch a crazy success and take it all over the DC area. I would love to here from you with suggestions and ideas!
RSS
NYC Events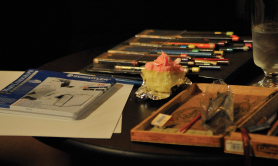 Art Tumblr
Dr Sketchy's LA 12/3/13 (pt. 1)
artofach.blogspot.com
http://drsketchy.tumblr.com/post/69132640329