Branch Blog - New York, NY
Mon, January 23, 2006 • Jan. Report
Hello Art Monkeys!Nor wind nor rain or dark of afternoon could keep us from having another Dr. Sketchy's! Outside it may be winter, but we made the Lucky Cat hot hot hot. Decked in jewels and white feathers, Ms. Amber Ray presided over Dr. Sketchy's like a queen. We moved the time to 3pm, which led to more people, more contests, more drinking, and much more fun.Enough talk, what good are words when we have so many pretty pictures?


Ms. Amber Ray holding court over the lowly Art Monkeys. Same format as before, 1, 2, 5, 10, and 20 mintue poses.


All our reserved seats sold out, and people spilled out onto the floor. Ms. Ray was posing to Iggy Pop's "Sister Midnight." Sandman fans know what I'm talkin' about.


Ms. Molly Crabapple, host and one half of Dr. Sketchy's, looking boop-boop be doop in her "business" suit.


In the wild, Art Monkeys must be fed a steady diet of chocolate covered cherries. Here, Ms. Little Brooklyn of Starshine Burlesque hand feeds Molly Crabbaple before releasing her back into the wild.


Ms. Ray judging the contest entrees. The random word contest was "rocket", which led to several …interesting interpretations.More photos of the contest winners to come! Thanks to Gary Winter for the photographs and to the Lucky Cat for letting us wreck the place again. Thanks to everyone who came to draw and drink, and special thanks to Ms. Amber Ray, for being utterly faboo.See you Feb 4th! Same Sketchy Time, Same Sketchy Place.


–J. Leavitt.
-----
RSS
NYC Events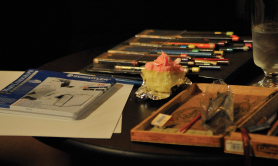 Art Tumblr
Dr Sketchy LA 12-3-13
http://drsketchy.tumblr.com/post/69027079376