Branch Blog - Tokyo, Japan
Wed, January 30, 2013 • Dr. Sketchy's Tokyo Presents : Rosie Rivette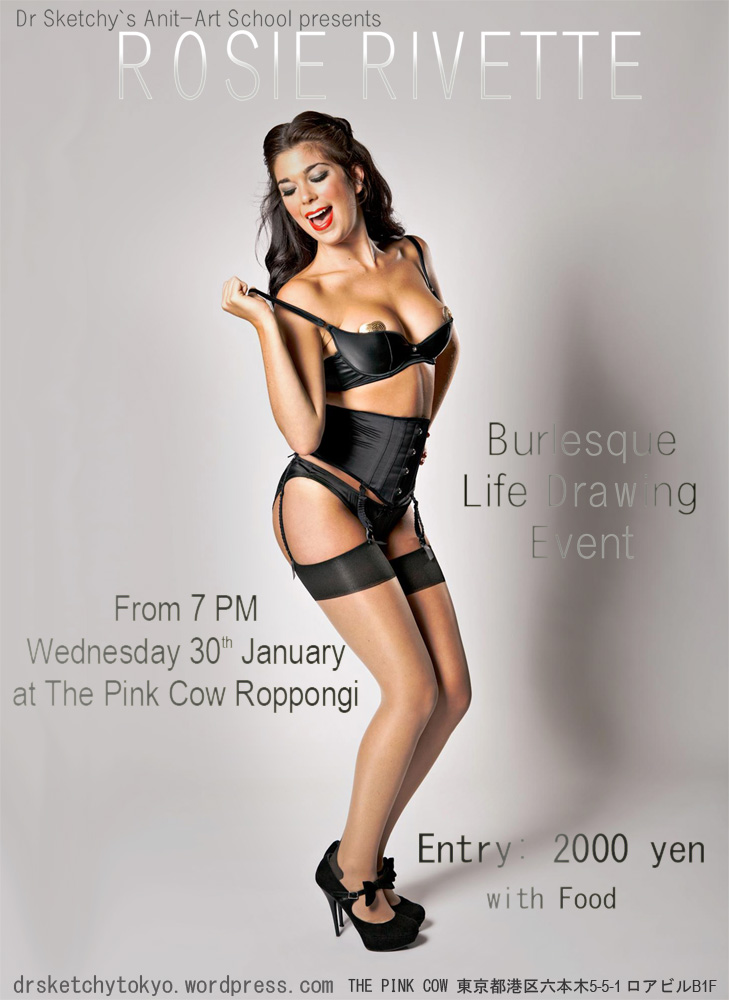 Rosie Rivette is a 50′s inspired & Sydney based burlesque performer. Heavily influenced by the iconic queen of Pin Up, Bettie page, Miss Rivette is predominately known for her expressive and comedic style of tease, aiming to evoke a hoot, holler & laughter from every one of her shows. She may appear young, naive and innocent, but behind her humour lie some very mischievous, bizarre, fetish filled desires.
Rosie Rivette: Wednesday, January 30th
Doors open at 6:00pm. Show Starts at 7:00pm
@The Pink Cow
¥2000/including light dinner
*for directions and more venue info please check http://www.thepinkcow.com
日時:1月30日(水曜日)
オープン時間:6:00pm
スケッチ時間:7:00pm頃~10:00pm頃
会場:THE PINK COW六本木
入場料:2000円(軽食付き)
※ご希望により、軽食をベジタリアンに変更できます。
※席のご予約はお名前/電話番号/ご希望時間を添えて下記にメールしてください。
ご予約:[email protected]
——————————————————————————————————-
THE PINK COWでは、自家製の多国籍料理をお楽しみいただけます、スケッチ中も食事は可能ですので是非一度お試し下さい♪スケッチィのオススメは本場仕込みのブリトーです☆一度食べたらはまります◎
——————————————————————————————————-
You don't need to be an artist or know how to sketch to come and enjoy the show and the food! Just bring pad and pencils if you want to try!スケッチ未経験者でも参加OK!見学に、料理を楽しみに、是非お越しください!気軽にスケッチを学びたい人には完璧な場所です!
RSS
NYC Events
Art Tumblr
15 minute pose. 
Dr. Sketchy's Las Vegas.  5-16-2013
http://drsketchy.tumblr.com/post/50664789096