Branch Blog - New York, NY
Thu, May 06, 2010 • King Louie
Hey there, Art Monkeys!
At our last session, we had one of our Art Star tributes to Molly's ultrafamous artist friends. For those of you who have not had the pleasure of seeing Travis Louie's work yourself, he paints black-and-white portraits of unusual, bizarre, and sometimes even monstrous people, like this:
For our session, the incomparable Amber Ray and the incredible Dani of Body of Art simulated a portrait in flesh like this:
It is very important to stretch before you begin posing.
After that, the tap dancing begins.
The prizes for the best left-handed drawing were prints contributed by our good friend (and everyone's), Paigey. The bright colours are antithetical to our theme, but we allow it because she's cute.
Here, Amber indicates that a touchdown has occured.
This is how you get cars to stop for you when you're hitchhiking. I saw it in a cartoon.
Seeing Travis Louie's drawings of these humanoids upset me on a fundamental level, because they're not canonical. I don't know their armour class, their THAC0 - nothing! So I had our artists transform Amber into a creature from the Monster Manual so that we could determine the stats.
ORC
FREQUENCY: Common
NO. APPEARING: 2-5
ARMOR CLASS: 5
MOVE: 120′ (40′)
HIT DICE: 1
NO. OF ATTACKS: 1
DAMAGE/ATTACK: 1-6 or weapon
SPECIAL ATTACKS: -
SPECIAL DEFENSES: -
INTELLIGENCE: Average
ALIGNMENT: Chaotic
SIZE: M (6′ tall)
You know what? Too many people drew centaurs. I figure you all already know all about them. Here's a platypus that eats your brain:
The prize was a lawful cow with +1 to saving throws against acid from Squishable.
Amber is an artist and she is serious about her shit.
Travis Louie's fabulous book Curiosities was on sale at the session for a price so low, I've forgotten what it was.
Seriously, mask, if I were there, my face wouldn't look as displeased as yours.
In honour of Travis Louie's monochromatic paintings, the audience was asked to incorporate things that are black and white into their drawings.
This one has a Republican.
These two don't incorporate anything monochromatic, but one of them is black and one is white. Still, that doesn't count for anything.
Again, two artists chose the same subject: Charlie Chaplain. I am convinced that this audience was actually a hive mind.
But that would mean that they were all sharing a mind with Amanda, which is a terrifying thought.
The prizes were a black Russian and a white Russian. Get it?
Here, Amber's nipples indicate Molly Crabapple and Travis Louie.
Here, we see Amber posing with John, Dani, and most importantly, Syd. Thank yous to everyone pictured, as well as Justin, Melissa, Martin, Foley, Zoe, Keith, Dolcy, and Beth.
-----
RSS
NYC Events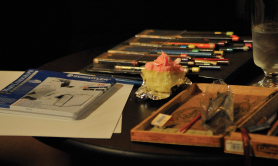 Art Tumblr