Branch Blog - New York, NY
Tue, December 16, 2008 • Kiss Me Deadly
One way ticket to Midnight: Lady J and Nik Sin. I thought it was going to be a tribute to KISS and everyone else thought it was Heavy Metal ..so there was some confusion. No matter, our models and crew kicked it out of the park. More Lady J, Nik Sin, Me, Syd, Dr. Simon, Melissa, and Justin after! the! jump!
Oh the things we do when Molly is away…
The candy-colored backdrop worked TOTALLY PERFECTLY in my vision! Don't question it!
I have no idea how "Tiny Dancer" didn't cause all the metalheads to run screaming for the exits like an angry mob.
As always, there is MORE the sheer Superness of Lady J and Nik Sin caused Justin Lussier to explode his hot sticky camera action over all…
I am always delighted and terrified by the stuff Art Monkeys come up with …
You freaks! and that's it! Thanks to Everyone! Everywhere!
-----
RSS
NYC Events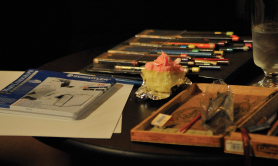 Art Tumblr
Dr Sketchy's LA 12/3/13 (pt. 1)
artofach.blogspot.com
http://drsketchy.tumblr.com/post/69132640329