Branch Blog - New York, NY
Thu, April 24, 2008 • Land Of Rising Fun
Konnichiha Art monkeys! Dr. Sketchy's Anti-Art School brings you the ancient and beautiful tradition of the Geisha the only way we know how!
With Pearle Noir AKA The Black Pearl as our very own Geisha Gone Wild! Take *that* 600 years of aesthetic refinement!
Pearl came all the way from Texas to delight, amaze and blur cultural lines into one big melting pot of awesome.
Photos by Dr. Simon and Justin Lussier. Who I understand are Samurai of some sort.
Being a dancer, Pearle was able to do….this!
And this!
And Some of that!
Also this!
And this!
and a little bit of that.
And that …. that looks painful, actually. Yikes.. Oh well, bring on more parasols!
I've said it before and I'll say it again, the right props can send a drawing session right out into the Oort Belt Of Kick-Ass, where many Kick-Ass objects exist.
Best incorporation of a "Lucky Cat" because we're at the…lucky. Never mind. A fisting reference would be completely out of line here and I will not lower the tone of this blog by mentioning it.
Bemused Model Is Bemused!
And under the watchful eyes of our looming Giehsa heads, came the contests.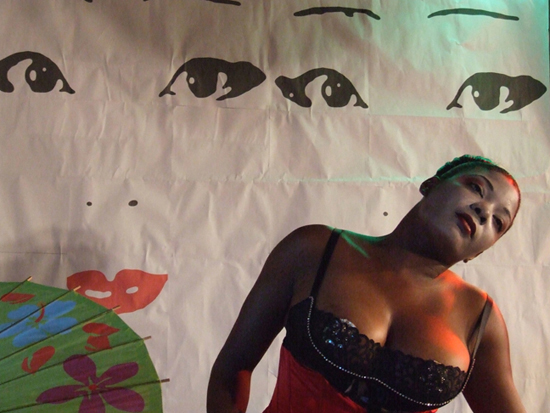 One contest in particular elicited an..enthusiastic response. Best incorporation of some Japanese Pop Culture. The results where sadly tentacle-filled.
Sigh … one again everything comes down to the internet.
Steve walker to my right ….looking deeply, deeply ashamed.
No, they're not writing insane gibberish, that was the random-phrase contest. I think.
And Syonara sweeties! Thanks to Pearl Noir! Steve Walker, Syd Bernstien, Eve Bulter, Justin Lussier, Dr. Simon, The Lucky Cat and All Art Monkeys Everywhere! Your waving arm of luck brings much happiness into my life.
Hehehe… ipenis.
-JL
-----
RSS
NYC Events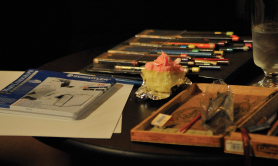 Art Tumblr
https://vimeo.com/81362468