Branch Blog - New York, NY
Mon, August 03, 2009 • Le Nouvelle Savage
Pip-pip and tally-ho, art monkeys! At the last session, Dr. Sketchy's Anti-Anthropology School launched an expedition deep into the uncharted wilderness of the Slipper Room stage to observe the indigenous people. It was there that we met
Miss Southern Comfort
and Dame Cuchifrita - two natives of this untamed and inhospitable terrain. Both SoCo and Cuchi are members of the Brown Girls Burlesque troupe. I suppose that they are called this because they are Ivy League educated Rhode Islanders. Otherwise, it wouldn't make sense.
We arrived during a war between two tribes. This gave us the opportunity to observe their combat techniques and, of course, to be really turned on by them.
I could not speak their language, but I assume that this war, like most wars, was caused by a complex web of diplomatic relations reacting to the assassination of an archduke.
Our strict policy of non-interference forbade us from getting involved in the war. We could only take pictures and place bets.
Eventually, the two warring factions were able to find common ground and come together doing something that I think we all enjoy to some extent - killing a white woman.
Our artists documented these beautiful savages using only the primitive sketch pads and newspapers found in the wild.
Next, it was time for the hunt. This allowed us to observe the division of labour in their society.
Miss Southern Comfort was in charge of catching the game with a fishnet that was ingeniously adapted to catch landfish.
Killing and skinning the animal was the responsibility of Dame Cuchifrita. The creature was eaten and, sadly, its pelt was used to make clothing.
Here is a tribal ritual whose significance should be obvious.
The women painted their faces in a clearly symbolic fashion, though your guess is as good as mine as to what it symbolizes. Truly, their ways are cloaked in mystery.
We also catalogued the diverse natural fauna of the Slipper Room stage - from the lizardman to the jellyfish.
With Molly and John off on their own expeditions to the wild comic-cons of California, it fell to Melissa (not pictured) and me to host the session.
Foley watched the door dressed as (as he described it) my "Player 2."
Eerie, isn't it?
These aboriginal women have to be constantly on guard, as their lives are fraught with constant danger.
Here, Dame Cuchifrita falls victim to one of the innumerable hazards that beset them: a U.N. care package.
Here, the natives struggle to understand the conveniences of the civilized world. Of course there are always difficulties in acclimatizing oneself to an alien culture, so we took them to a variety of environments to see how they would adapt.
Here they are at the Crossroads, where they sold their souls to Steve Vai in exchange for blues rock proficiency.
Here they are on the "American Gothic" farm where, led by John Constantine, they faced vampires, werewolves, ghosts, zombies and other monsters that symbolized this country's societal ills.
Here they are in a museum, where they were guarded by Ben Stiller.
And, finally, here they are on the moon, which has been home to Amazon women since 1987.
A good time was had by all.
Unfortunately, there was a tragic end to this voyage, as some idiot introduced brassieres to these women, and, thus, their perfect society was ruined forever.
That's all the time we have for this blog. Thanks go to Justin for the pictures, to Tim and Melissa for the set, to Foley for tending the door, to Steve for keeping us all in line, and, of course, to the fabulous audience.
I'll see you next time.
-----
RSS
NYC Events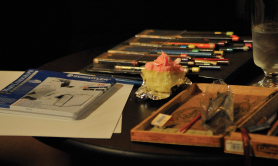 Art Tumblr
Alvin Black III
Frosty's going to melt…at Jingle Belle, Dr Sketchy Chicago Branch
Model: Rhonda Vous

my work on facebook: https://www.facebook.com/AlvinthethirdPainting
http://drsketchy.tumblr.com/post/70620589200