Branch Blog - New York, NY
Mon, December 04, 2006 • Let Them Eat Cannoli!
There are times, dear reader, when I simply contain the sheer amount of awesomeness contained inside the Lucky Cat Cafe. It's as if I'm working in some whippet-induced dream world. A Narcotic bliss that will not, nay, CANNOT , be dismissed. I am speaking, of course, of the kind of joy brought on by having The White Boom Boom and Gal Friday dress up as 18th century courtiers.
Kings of the wild frontier indeed! Your sketches or your life! Our photographers missed the beginner poses, wherein Gal Friday and Boom Boom stripped off thier eleborate hoop skirts and pantaloons. The world weeps.
They look they should be planning the destruction of an innocent virgin, don't they? That or plotting to invade the Spanish Netherlands.
"Frankly my dear Marquis, you have begun to bore me. You may remove yourself from my presence and retire to the country." How many other men can look that hot in white stockings? Well, BESIDES Caliostro?
Man, I'd sure like to check out her affair of the necklace. The best part was when "Rock Me Amedeus" came on. She burst out laughing and almost broke the pose. Gal Friday makes a better Marie Antoniette than a certain daft blonde airhead who never inflects and just stares into the distance.
I don't know why post-punk goes so well with big poofy skirts. it just *does*
And of course, Contests! Neighborhoodies provides us with yet another mysterious garment. They're not mistakes, they're "one-offs"! Also free tickets to Sweet and Nasty, bath products form Lizzie Sweet, and yet another mysterious green drink.
"I have the power! Who will be the next to be healed by my magic touch!" It was Pernod, which turns from clear to milky when you add water. Sadly, it does not do so in a dramatic or timely fashion. RUining my site gag and off-color humor. *sigh*.
The winner of "best incorperation of an ostentatious Flamingo", which is really redunant, isn't it? She declined the shot and it was passed on to the 2nd place winner.
Here, Boom Boom shifts into an alternate dimesion to escape Dr. Who, who has appeared to correct this fault in the time-line. I'd put in a Sapphire and Steel joke here, but I can't be bothered to remember anything about that series expect Joanna Lumley's frighteningly large 80s hair.
Our models, being as awesome as previously mentioned, brought 2 costumes. From the Court Of the Sun King to a 20s speakeasy! It's Mobariffic!
I'm pretty sure this picture contains at least 4 fetishes and several deep-seated sexual fantasies.
'They call me Scarlett. Scarlett O'Herring. What's yer name sugar?"
Something about this picture makes me think Fred harper is going to save Molly Crabbapple from Nazis in Occupied France.
And so, our time-travelling comes to an end. Lock up the Tardis and moth up the Trespicordian Time Salon until next time. Thanks to Ryan Roman and SaintEnteri for the photos, the Lucky Cat for the booze, and our paying customers.
Come to the Big Dr. Sketchy's Book Release Pary and Birthday Blowout at the Slipper Room, Dec 6th, 7-10pm! Hot burlesque stars and food shaped like ladies! Be there or be totally equal on all four sides!
-JL
-----
RSS
NYC Events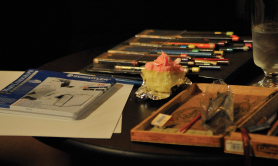 Art Tumblr
Dr Sketchy LA 12-3-13
http://drsketchy.tumblr.com/post/69027079376