Branch Blog - Washington, DC
Mon, December 03, 2012 • Let's Play Catch Up!
Well I am a little behind on this blog. Our first session with Miss Eyrie Twilight was a total success and we had an absolute blast. This was a epic win, however since that session I recently found out our beloved Red Palace will be closing it's doors on January 1st. So I have been searching for a new home for Dr.Sketchy's. I have some great places that are very interested and all are offering fantastic options. I think I have found a "home" or regular spot for the every other month session as well as great places to do special events on the alternating months. So though I am sad for the loss of the Palace, I am completely excited for the future of Dr. Sketchy's DC! We do have one final session at The Red Palace and I hope for it to be PACKED so we can go out with a bang. I will keep you posted as I secure the deals!
RSS
NYC Events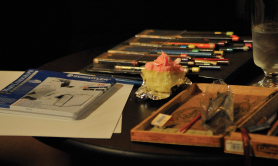 Art Tumblr
Dr Sketchy's LA 12/3/13 (pt. 1)
artofach.blogspot.com
http://drsketchy.tumblr.com/post/69132640329