Branch Blog - New York, NY
Wed, March 14, 2007 • Life's a drag
Well met and welcome my little monsters! Our latest update was delayed slightly do to a malfunctioning Watusi drive in the Time Salon. But fret not! It was fixed with some duct tape and cat hair and ready to boogie-woogie.
Aprella? Aprella! The leggy superheroine has returned to fill our lives with blueberry blast hair. It's better than Christmas!
But before we get to all that, how about some Go-go dancing?
Photos by Ryan Roman and Dr. Simon, of course.
Supplied by Syd Bernstien and his electric kool-aide acid test hair. As the pre-show entertainment, Syd stripped down to his underthings. We don't have pictures of that. Thank the Gods for small mercies.
And here, our host the lovely Molly Crabapple (Who was *not* on tour that week and left the hosting duties to John Leavitt and Steve Walker) shows off the Box Of Forbidden Mystery, where our various prizes reside. Just close your eyes and stick it in darling.
And, of course, APRELLA
There are not snap-shots. Aprella held these poses for 2 minutes and more. For comparison, put your arm in the air and spread your fingers out. Now hold that perfectly still for 5 minutes. Go ahead, I'll wait here.
.
..
…..and now do you see why we tip the models?
We even put on a distrubing playlet on why you should tip your models. The video below contains the full horror.
And, Oh yes! we had like, art and people drawing and stuff. See, Look!
Our crowd is a very fashionable crowd.
Holding up entries for "Best incorporation of The Fonz". The prize went to a man who included the Fonz, Johnny and Chachi and Mork From Ork. It was like all 70s TV compressed into a beautiful singularity!
This is just my favorite picture of myself, Ever. It's the stockings OVER the socks that just make it rock THAT MUCH HARDER. Please note Steve Walker on the right, sighing deeply.
The contest? Best transformation into a frisky astronaut. The prize? A 360-degree panorama of Florence by Dr. Simon! Florence! it's not just for repressed 19th century Englishwomen anymore!
Winner of the drink contest, complete with pantone-color matched drink! Hmm, it tastes like excitement!
Dreamy Steve Walker, the guy who did all the actual work while I got tarted up and drunk. Our hats off to you Mr. Walker.
One Word Descriptions of the Art Monkey's Hair (as seen in this picture).
Left to Right
1 - Sheared
2- Bouncy
3- Luminescent
4- Tame
5- Feral.
and now, back to Aprella.
How do you even get into a pose like this without being greased up in butter beforehand?
Alas! All sketchy things must come to an end. Come back on Saturday, when the REAL Molly Crabapple will be there along with Gal Friday and Ian Christenson as Good Queen Bess' Naughty Court! It's 1550-riffic!
Best,
-JL
-----
RSS
NYC Events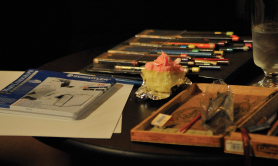 Art Tumblr
Art by me at dr. Sketchys seaside at the alternative cafe. I am Jacob Rafael Estrada
http://drsketchy.tumblr.com/post/69484943198