Branch Blog - New York, NY
Fri, July 30, 2010 • Look Out! The Boss is behind you!
Greetings, Art Monkeys!
As you are no doubt aware, the only things we here at Dr. Sketchy's Anti-Art School like better than pretty pictures of naked women are pretty naked women to draw pictures of. Unfortunately, certain local laws often prevent us from bringing you as much nudity as you truly deserve. However, recently, a very special super-secret session was held at an undisclosed location with Amber Ray as Marie Antoinette and Darenzia as… someone else. All of the parts that God would not have given women had he known of public indecency laws were in full view. I looked through Lauren Goldberg's photos of the event to find pictures of the models that would be suitable to post on the blog's front page. These are the best I found:
The rest have to be behind a cut tag in what I have determined is
The Least SFW Sketchyblog Ever!
I'm excited, aren't you? Join me after the jump.
Writing this blog entry presents a challenge, because if I provide my honest thoughts on these photographs, then no amount of slapping me would ever seem sufficient.
Looking at the above photograph, I suddenly realize that Amber Ray and Batman have never been photographed together. Coincidence? Probably.
Darenzia dressed all in black, but, luckily for us, not for long.
Lauren took some shots of the artists' work in progress.
These shots are great for illustrating the creative process and for giving the hand fetishists in the audience what they want.
Look at how fucking fancy this place is! I officially hate whoever lives here for not giving me his apartment.
Look at the studious look on the face of this man who is just inches away from a nearly naked woman. That, essentially, is the difference between artists and real people.
Oh, yeah, our founder and Glorious Leader Molly Crabapple was there, too.
Oh, yeah, the flowers on the knees are exactly the sort of touch that Batman would use to try to convince me that he wasn't Batman. Nice try, "Amber." I'm onto you.
It looks like Lauren tried to sneak up behind Darenzia, but Darenzia was too fast for her.
The models get a lot of attention, but I'd like to point out that the audience deserves objectification, too.
For those of you who do not ordinarily wear corsets, let this photo stand as a warning.
In Darenzia's face, we see the anguish of a woman who wishes she had worn shoes with shorter heels.
The event was sponsored by Boyd and Blair vodka, because without liquor, Dr. Sketchy's is just school.
Special thanks to our sponsor and our models, to Molly and Lauren, and to everyone who made this event happen.
RSS
NYC Events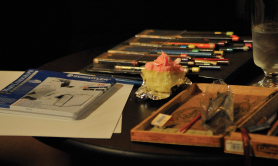 Art Tumblr
https://vimeo.com/81362468