Branch Blog - New York, NY
Mon, September 02, 2013 • Madame 'Bud
Welcome to our little Clam Bake at the Slipper Room, you Chunky Monkeys!
We hope you get a kick out of the little blue sky blonde we procured for you, wink wink.
In order to write this blog, I Kat Mon Dieu was going to get all domestic and have a tea party for one, but I gave up looking for the 10 year old doob I may or may not have put in my storage unit in case of emergencies. Never fear! I have a bottle of red wine that I know for a fact was exposed repeatedly to some powerful northern lights. I also got into the catnip and shared some with my furry children, so we're all chillin' chez la chat.
Behold...the downward spiral into decadence by Mademoiselle Rose, and her transformation into the incorrigable Madame RoseBUD...and so the story goes, as documented in photographic evidence by Kate Black, and witnessed in edge-of-your-seat-suspense by all you Mary's and Johnny's of Dr Sketchy's "Reefer Madness" session!
Just do me one favor and get high before you read this...it's funnier that way. (I hope someone brought cheetos).
Fie! What is this funny looking thing that I found in my boyfriends wallet that almost looks like a cigarette but not exactly?
EWWW...EWWW!!! It smells BAD!!! Like SKUNK roadkill!!! I think the cat wee-wee'd on his wallet!!!
OH NO!!!! I know what it is...but it cannot be!
How could you do this to me, Al or Kevin or whateva your name is? How could you smoke that evil life destroying narcotic that makes you steal, rape and murder and eventually go insane for the rest of your natural life? I cannot LIVE knowing you smoke Marihuana...so I will kill myself...with this joint. THEN...you'll...be...sorry... You'll wish you never even knew the meaning of the word "Drugs". I'll teach you a lesson you'll never forget Mister!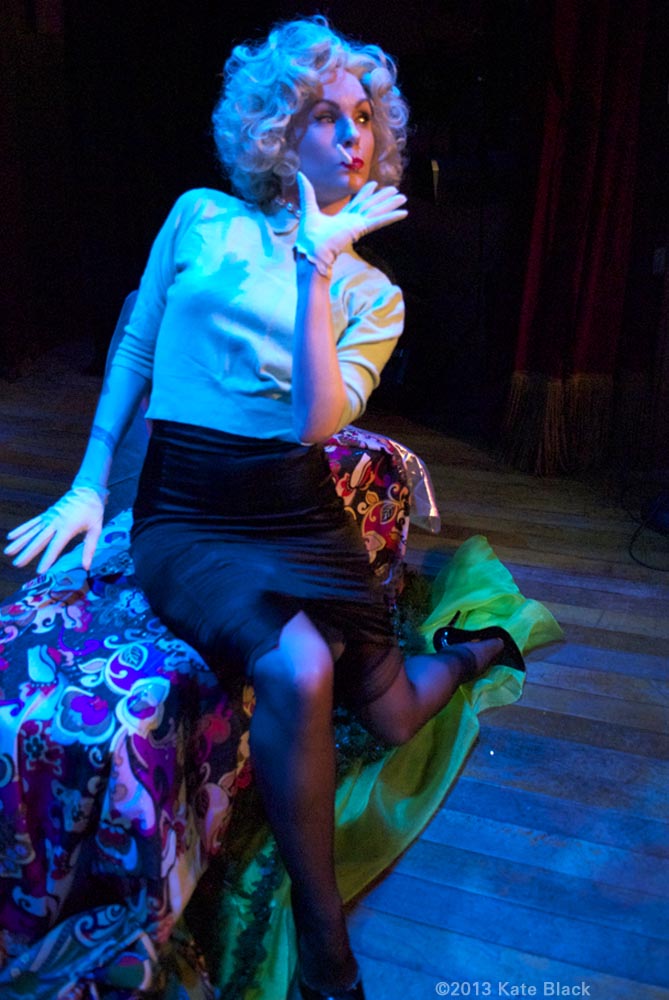 My beau will find me DEAD with his illegal drugs on my delicate, still moist lips...the remains of the evil kick stick held loosely in my lifeless, yet still warm fingers...I will make that Bastard cry for doing this to me!
Any minute I should keel over from a drug overdose...
I better lay down so I don't hit my head.
I think it's starting to hit me...it's like...it's like...being suspended in mid-air...
One more long toke should put me over the line...
...just a little more...
Now, I think I'm supposed to exhale...wait...there is no smoke...did I even inhale? Did I even light the damn thing?
Oh SWEET JESUS! Neverrrrrrrrrrmiiiiiiiiiiiiind! I feel it now...
I don't know what I am doing...I no longer have control over my body...my stockings are showing.
BWWWAAAAHHAAAHHHAAA!!! GAWD that's FUNNY! My stockings are showing! So WHAT? Oh this stuff is so good, I think I'll die laughing.
AAAAHHHHhhhhahhhhaaaahhh.....haaaaa.....hhaa...ha..........ha............hmmmmmmm....
Babe...I think you got duped. This shit is crap and I ain't dead or crazy. You got ripped off. They should call this drug "Minute Man", cuz it's spent before you can get your panties off.
In fact it just gives me a belly ache.
Oh! A mirror! Check me out! I'm one hot tomato!
Well...I might as well keep going. I'm a degenerate now. There's no going back. I'm goin' to Hell or Jail or both.
Bring it on, Bitches.
I saw in a documentary that some people transport illegal substances in the heels of their shoes. I wonder if Mister has hidden something in my pumps...
"Hello my Baby, Hello my Honey, Hello my Ragtime Gal!" Isn't that frog the most psychotic thing?! Gotta love 'im!
Oh my...my skirt is shrinking! Now how did that happen?
Found that Bastard's entire stash! Get a load of this pack 'o rocks! PARTAYYYYYYYYYYYYYYYYYYYYY!!!!!!!
Finally this Whacky Tabacky is starting to kick in...hello Jolly Green Giant! Where ya been all my life? Com'ere Big Boy...
The art monkeys are befuddled by the contact high they are getting. Some forget to draw. Some are distracted by what others are doing. Some just fell asleep. (You can't see them. They are on the floor). One guy near the back just says "phuckit" and lights his own sticky icky.
And the winner of the Baby Tattoo drawing pad and book is...this wholesome, clean-cut looking guy!
Alright. I've had it with these damn clothes. Who wants a sweater?
Shit. Zipper's stuck.
Ah, who needs a zipper when your underwear is teflon?
You want more?
Start begging...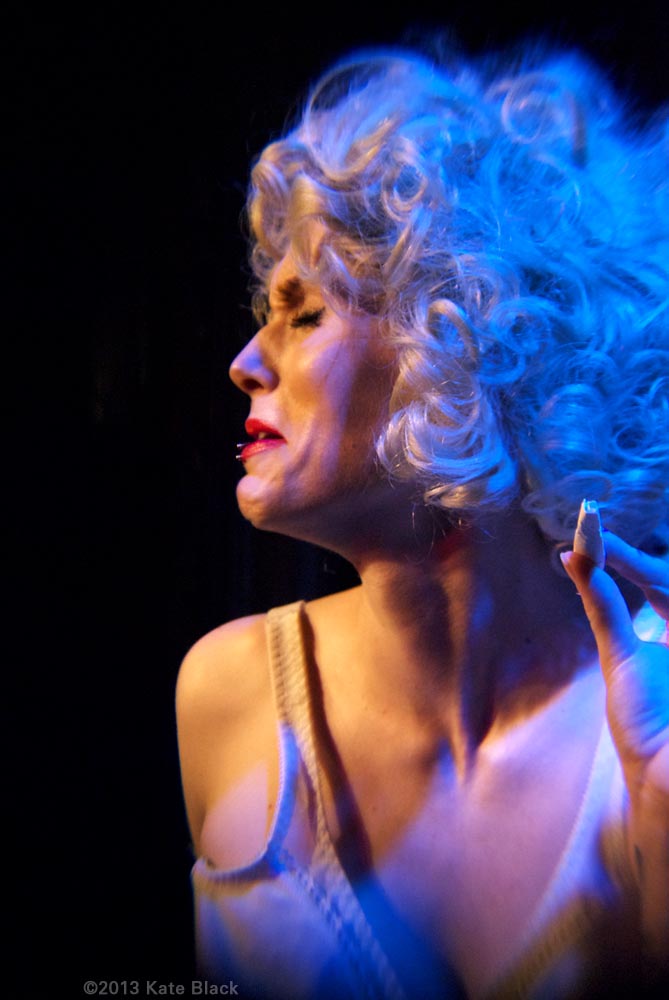 Ohhhhhhh....nooooooo!!!! I just realized...Marihuana has turned me into a STRIPPER!
That's OK. I've always wanted to be a stripper ever since I found my dads Bettie Page magazines.
What's happening?! The room is so pretty...look at all the colors...dancing...I'm melting into the colors...I am the colors...
My foot is turning into an elephant foot...maybe I will turn into an elephant...then stampede and trample everyone...then they will shoot me, so I will die anyway...and goof butt will regret ever leaving that cat piss twist in his wallet for me to find.
HA! I just realized something...
I am not, nor will I ever turn into an elephant.
But I can still be buds with Puff the Magic Dragon.
As well as "Three Little Birds".
But this Squishable bird is definitely not what you would call "Little". Congrats to our winner of the revisionist song contest!
Oops! There goes my bullet bra! I think I might like to do this as a living.
Syd has to step in to nip a riot in the bud...haha...I said "bud".
Uh oh...Has Madame Rosebud gone one toke over the line?
Is this the moment she envisioned when she inhaled that first drag toxic smoke into her virgin lungs?
Is this the end...my friend?
Visions of death masks proliferate the room...
Bogarted the whole room didn't I!? Suckaaaaaaaaaas!!!!
It is these two undercover cops who have come to bust the joint wide open with their eyewitness account. Usually they take no prisoners, but this time the contact high has made their minds function differently.
One of them drew doughnuts. Told you. Cops.
They actually perceive themselves to be in the midst of arm wrestling over who has to fill out the report.
Rosebud is their favorite hallucination.
A drink in solidarity! For the cause...man!
Rosebud decides to hit the hay.
She dreams of elephants and dragons and fat hairy birds...
She dreams of Juan Valdez, fresh mown grass and cops wrestling naked in a pile of doughnuts.
The remainder of her garments are melting away with her inhibitions...
As she comes to the realization that she will not die from an overdose of Marihuana....and actually those Reefer Madness cronies got the spelling wrong, because Marijuana has been legalized and that's the way they spell it in the news.
Thank you Kate, Melissa, Syd, Yao, Foley, Madame Renee Rosebud and all you deviants who followed us down the rabbit hole!
For the record, I had two glasses of wine while writing this. I'm just naturally high.
RSS
NYC Events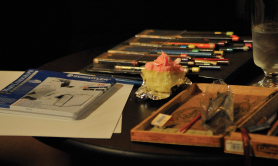 Art Tumblr
Dr Sketchy's LA 12/3/13 (pt. 1)
artofach.blogspot.com
http://drsketchy.tumblr.com/post/69132640329