Branch Blog - New York, NY
Wed, April 18, 2012 • Marble Madness
Hello, art monkeys!
Here at Dr. Sketchy's Anti-Art School, we encourage artists to experiment with all sorts of media. We have had paints, inks, charcoal, crayons, iPads, and yet one medium remained conspicuously absent. Where were the sculptors? Where were the dedicated artisans bringing their big chunks of granite to carve into life-size representations of the model? This had plagued us for years, until we finally took it upon ourselves to do the hard work for you and to provide our own statue in the form of model Dante Posh. Kate Black took photographs.
The problem with photography is that you can't even tell just how still she's being in these pictures.
Sometimes, you can't think of a pose in time.
Backstage, here are some shots of the model getting stoned.
And now she is ready to rock.
It was at this point that the model drew a sword, symbolizing that shit just got real.
This guy went above and beyond during the one-minute poses by creating a statue garden populated entirely by Dante Posh.
I was going to say that Dante aided the Left-Handed Drawing Contest by using her left hand in the pose. Then I remembered that this was the One-Line Drawing Contest. I guess the principle is the same.
Thankfully, Dante's suicide attempts were thwarted by her inability to move.
I should probably have mentioned that on the table behind her is a rock lobster.
With so many talented artists in attendance, competition for the contests was stiff.
Above, you can see the kind of craftsmanship that wins you a Squishable.
The feather stick stands as a warning for any birds that might get too familiar.
For Those About to Rock, We Salute You.
I'm pretty sure the above drawing was not one of the contest winners, but it was the only drawing that Kate got a picture of.
So, I guess, close enough.
Thank you to Melissa, Foley, Kate, Kieth, Liz, and Jawad.
- Syd Bernstein
RSS
NYC Events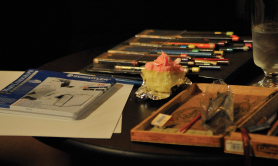 Art Tumblr