Branch Blog - New York, NY
Wed, March 22, 2006 • March Madness
Spring is when a young man's affection turns to hot roller-derby girls posing at boozy life drawing classes. What better way to celebrate the fairest of the seasons then with Joey Hardcore of the Gotham Girls Roller Derby posing for the delection of art monkeys? Posing in skates, no less.
Enough jibber-jabber. On to the photos!
Our new seating arrangement has kept most people off the floor, but space is still scanty. When one group failed to show up, Molly gave the precious, precious couch spot to the first person who guessed her favorite color (Hint, it's the same color as her other two favorite things: money and Grasshopper martinis.)
Here, Joey Hardcore implores us, through the medium of 5 mintue poses, to rock out.
Joey and Molly trading confidential life modeling secrets. Yes men, the pretty girls do talk about you behind your back.
Two Burlesque stars chat shop during break. Say, did you know that The White Boom Boom will be posing for us in a month? Or that Little Brooklyn donated the StarShine Burlesque VIP tickets as prizes? The devil you say!
All The Sketchy People, where do they all come from? All the sketchy people, where do they all belong?
Me, trying to give correct change.
One of our faboo prizes, an actual factual Dr. Sketchy's mug! Available only as a coveted prize at Dr. Sketchy's.
A triptych detailing our 5pm drinking contest. The contest? Draw Joey with a punk rock rubber-ducky. The prize, Stoli Raspberry and 1.5 seconds of fame.
And finally, a picture that sums up Dr. Sketchy's better than any mere words can.
Come back next time for Gigi LaFemme, who'll class up our sordid act.
Thanks to everyone who came out! Thanks to the Lucky Cat and Gary Winter for the photos! Thanks to Joey Hardcore for putting on skates just for us. Thanks to all our sponsors, friends, cohorts, and supporters. We love all of you in a deep, spiritual way.
-J. Leavitt
-----
RSS
NYC Events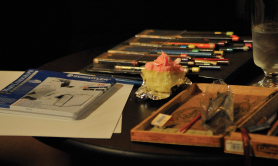 Art Tumblr
Dr Sketchy LA 12-3-13
http://drsketchy.tumblr.com/post/69027079376