Wed, June 15, 2011 • Marilyn, the wrap-up
First, we had Norma Jean. Melanie had the best facial expressions for this!
then Marilyn made an appearance in the famous white dress!
and last, but not least, we had a little bit of post-modernism:
thanks to Melanie Parker, Trish Chenard, Mike Alberghini and all the wonderful artists who came out to draw. Stay tuned for our next event date, to be posted soon!
RSS
NYC Events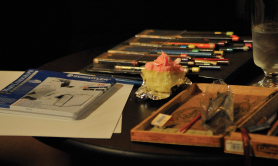 Art Tumblr
https://vimeo.com/81362468