Branch Blog - New York, NY
Wed, March 20, 2013 • Christmars
Merry Christmas, Art Martians!
Don't you love Christmas movies? Don't they just bring out the holiday spirit in you? They're such an essential part of the season. Why, with the secularization of America, you would hardly even know when it was Christmas if it weren't for the constant reminders for three months of every year. If there's one thing that we at Dr. Sketchy's Anti-Art School like more than old-fashioned Christmas movies, it's old-fashioned science fiction. Nothing puts us in the spirit of brotherhood and charity more than robots and time-traveling space monsters. It was only natural, then, that this Christmas, we staged a tribute to the science fiction Christmas classic Santa Claus Conquers the Martians. I know that you out there are no jaded, cynical Scrooges. You still have the childlike sense of wonderment required to make believe that this blog was written three months ago when it was still seasonally appropriate. So come along with me and photographer Kate Black as Lillet St. Sunday as the Martian is conquered by Santa Claus.
The day started out as usual - Santa preparing for his Christmas deliveries, Voldar preparing to invade the Earth, and Torr preparing for his big Turing test.
Santa made first contact with the Martian and offered her a box of chocolates, which is a traditional interplanetary greeting, expecially with aliens you want to bang.
Backstage, we see some of the Martian's beauty secrets, which, as you would imagine, are laser-based.
"What are these antennae doing on your head?" Santa joked. "Don't you get cable on Mars?" Santa didn't know that he would pay for his terrible faux pas.
"You're ours now, old man!" said Voldar. "From now on, you make toys for Mars!" What was Santa to do? Sure, Santa can make and deliver toys for all of the children of Earth, but Earth and Mars? That's just ridiculous!
Santa knew how to deal with unruly children. He sat Voldar down on his lap and they had a little talk.
At this point, the narrative broke off for a Left-Handed Drawing Contest - one of our favourite Christmas traditions.
Suddenly, the tables were turned when Santa got hold of the Martian's laser pistol. Now it would be Santa who would be telling you what to get him for Christmas!
The Martian got the appropriate comeuppance for her insolence. In the butt.
Then we had another contest. Squishable ducks were given as prizes, per the ancient Norse yuletide tradition. If you don't believe me, ask any ancient Norsemen.
It was then that Voldar had a change of heart and costume. She truly got out of her jumpsuit and into the Christmas spirit.
Santa approved of this new look and departed, knowing that the spirit of Martian Christmas was in good hands.
Torr seemed to approve, too.
And the audience.
And so we all got drunk.
And in a shocking twist ending, Foley and Melanie fell in love with Torr. Bet you didn't see that coming.
Thank you to Melissa, Foley, Kate, Keith, and Dolcy.
- Syd Bernstein
RSS
NYC Events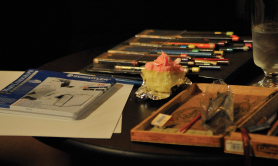 Art Tumblr
Dr Sketchy's LA 12/3/13 (pt. 1)
artofach.blogspot.com
http://drsketchy.tumblr.com/post/69132640329