Branch Blog - New York, NY
Wed, July 11, 2007 • MARVEL!
…and we're back! After a short hiatus, Dr. Sketchy's NYC is back! And what do we have this week to titalate and distrub the hardened geekwad in all of you?
Stormy leather….
and the White Boom Boom as…
….WOlverine and Mystique! taking thier clothes off! It's the stuff slashart dreams are made of.So c'mon! Load up the blackbird, ready the Ready room, set Teen Angst to 11 and hope MARVEL doesn't call the lawyers! It's Dr. Sketchy's School For Gifted Youngsters!Photos by Ryan Roman and Dr. Simon, who have the mutant ability to be awesome.
Your super-hosts, Molly Crabapple and John Leavitt! Molly is dressed in a rubber catsuit, because that's what superheroines wear no matter what the occasion … while I appear to be Scott Summers in an alternate dimension where he's a pudgy, hairy homosexual. Quickly! Get Joss Whedon on the line, I smell a series.Syd Bernstien came dressed as Angel. Not the brooding, unemoting vampire, the guy with actual wings. It was stunning, but sadly no photographic evdiense exists. But trust me, whatever you can think of, it was a billion, million times better. Ok? Moving on.
These where one-minute poses, wherein a climatic battle was performed! Our first contest was to turn those poses into a comic book page. With word balloons. The results horrifed and entertained!
The winners received notable comic books from the collection of Ryan Roman and Steve Walker! They both deserve random acts of public sex for thier kindness.We made speical posters to promote this session, so we filled up fast.
I'm not sure how we fit them all in without bending the laws of TIME AND SPACE ….although I think a few of them walked thorugh the wall to get choice seats. Cheaters never win people. Never.
Yes, she did the skulls. That's devotion.
Yes, he brought a cigar. yes he smoked it. No "bubs" however. *SIGH*.
Pictures that lanuched an entire spent kleenex box worth of geekwadery.And yet we had contests! So many contests!Best rendering of the models in an Indie Comic Style!
Note the "Ghost World" hair. Clever MOnkey!
Best drawing of your hosts as Superheros!
I like how I'm suddently shirtless in my super-form. James here won a..gothy snowglobe…with women inside….fighting.And, as genre conventions demand, there was drinking
Sadly, like the end of X-3, all our super-powers where for naught!
People being TORN APART by DRUNKEN WOMEN! That's a real Bacchnial there.
Molly Crabapple, Menead.And so this exciting issue comes to a close! Who will live?! Who will die?! Who will have to clean up the mess?! Find out Next week at Dr. Sketchy's Anti-Art School…
….where we go to Summer Camp with Lola Pearl! Relive all your horrible, horrible memories! And thanks to Ryan Roman, Steve Walker, The Lucky Cat, Amanda, Justin Lussier, Syd Bernstien, Dr. Simon! and… The White Boom Boom and Stormy Leather! You're all ubermensches in my book.-JL
-----
RSS
NYC Events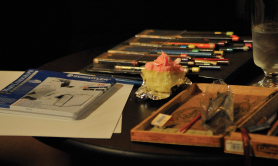 Art Tumblr
Dr Sketchy's LA 12/3/13 (pt. 1)
artofach.blogspot.com
http://drsketchy.tumblr.com/post/69132640329