Branch Blog - New York, NY
Mon, May 22, 2006 • Maybe This Time
Hello Art Monkeys!
Our last session had a bit of a snafu. Burlesque Queen Dirty martini was ready, willing, and able to rock your world, but a small scheduling error caused everyone to bounce out of orbit. For a second, it appeared we would have no model! Who will save Christmas!? Luckily, Our Very Own Molly Crabapple is an ex-model and sometimes burlesque star. She dusted off the spangles and feathers and proceeded to stand still for various lengths of time. Now thats entertainment!
Can't you just hear her thinking, "Great, no one is going to take me seriously as a business lady now!"?
All photos today come from the talented camera of Rockin' Ryan Roman. You sir, are the most perfect being alive. And I mean that sincerely.
Actual Dr. Sketchy Artwork. Do not Consume.
Burlesque troopers Tabitha Ray arrives undercover as a civilian to win the random noun contest. Her prize? A pretty in pink Dr. Sketchy's compact from Engravingshack.com. Below, Mia wins Dr. Sketchy dog tags and a place in history.
Our Always Unusually Intense-Looking Audience.
I don't know, there is something about this picture that makes it look like some Felini-esque scene of decadence, immorality, and philosophical angst. Or some shit like that.
We had a Camera crew (well, one camera guy) come this week! He was filming for a spot on HDnet, the High Def channel. So it everything goes well, you can see all of Molly with disturbing sharpness.
Our Helper Monkey Steve Walker posing for the last session. Thank you again Steve for allowing us to abuse you.
Thats all folks! Be back next time for Tangerine Jones, who I belive can be described in quantities of funkalicious. Dirty Martini will be returning, sans sanfu, in the near future. Thanks to the Lucky Cat, To Steve and Ryan and Molly and all you beautiful people, out there in the dark. You're the ones who made me a star!
-JL
RSS
NYC Events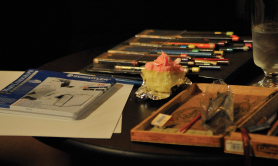 Art Tumblr
https://vimeo.com/81362468