Branch Blog - New York, NY
Sun, January 13, 2008 • Merry (Unspeakably Belated) Xmas!
Welcome back to Dr. Sketchy's Anti-Art school, where everyday is Christmas!
Rather than deal with your horrible realatives and their shocking notions of what you want, why not spend te holidays with Dr. Sketchy's?… And what before my wandering eyes should appear but the sexy silky form of our secret Santa, Akynos!
Akynos filled us with Holiday Cheer and good tidings, bringing joy to both the Naughty and the Nice.
Espically the Naughty.
Thanks to Dr. Simon who wrapped up The Lucky Cat like a great big cheesy gift box and thanks to the loyal Monkey who brought me a gift! It was an ingenious paper snowglobe made with Actual Love ™.
This sure beats the crap out of gingerbread and yule logs, doesn't it?
Your hosts, Molly Crabapple and John Leavitt! I appear to *very* full of cheer.
"YOU CALL THIS A WATERCOLOR PASTICHE?! BACK IN THE HOLE!"
If huge black dildos don't say Christmas, I don't know what does.
Like elves Art Monkeys toil day and night to produce images for disturbed boys and girls. Images like this one!
Or this one!
Or this one!
Or this one!
"Best incorporation of The Spirit Of The Season."
Oh i'd like to stuff her ….oh you get the idea.
People won things!
And just like in any holiday,friends from far-off places arrived!
Like the lovely lovely Princaple of Dr. Sketchy's Edinburgh who got us into the Fringe Festival! In honor of her many archivements, I drank Scotch.
And now the time has come to wrap up the wrapping paper and bows and simmering resentments for another year! Thanks to Akynos! Dr. Sketchy's Scotland! Ryan Roman, Steve Walker, Eve Butler, Syd Bernstein, Dr. Simon, The Lucky Cat and everyone who bought me a drink until I was stumbling around on stage, ruining skits and vomiting over everything. You're my *real* family.
The End.
-JL
-----
RSS
NYC Events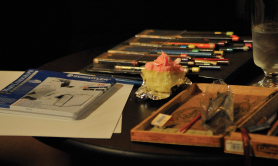 Art Tumblr
https://vimeo.com/81362468