Branch Blog - New York, NY
Thu, January 29, 2009 • Meta Monkey
Ahoy!
Dr. Sketchy's goes Meta with Trixie Little ( http://www.trixielittle.com) and the Evil Hate Monkey as The Model And The Art Monkey! They astounded us with acrobatic feats! I have nothing more to say expect you should have given them more. Jesus. They where amazing. This was one for the record books. Acrobatics HO!
Photos by Dr. Simon.
Oh he's such a card
Butstill, we have a place, a big gooey place, for JUstin Lussier, photog extraordinare.
Man Justin is good at getting my "I LOOK LIKE AN EVIL BORDER GUARD" in 1600s. I guard Wallonia against invasion!
And thankis to everyone! thanks to Trixie Little and the Evil Hate Monkey! Thanks to all OUR monkeys who slave away and made this sessikon fantastic. Come back next week for THE BIRDS with Veronicsa Varlow and Apprella!
-----
RSS
NYC Events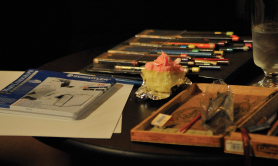 Art Tumblr
Dr Sketchy LA 12-3-13
http://drsketchy.tumblr.com/post/69027079376