Branch Blog - New York, NY
Wed, September 12, 2007 • Monkeys On Parade!
It's a steamy Saturday afternoon in New York City. Down West Broadway comes a horde of half-naked dancers, women strapped to balloons, donut eating cavemen, gigantic floating drag queen heads, dancing dynamite sticks, and screaming black clad revolutionaries.
A psychotic break? An ether-induced delusion? Nay, it's the Deitch Art Parade and Dr. Sketchy's Anti-Art was there.
Art Monkey's represent! Molly Crabapple, Lady Lovely, and Pandora where half-naked showgirls while Mr, Syd, Fred and Peter got to be beret wearing Art Monkeys (with tails!) in black turtlenecks. In 88 degree heat. While Marching.
At least I didn't have to do it in heels.
It's Molly and Amber Ray and Muffin! Amber is dressed as "caution". I've always wanted to see a dancing adverb!
The crowd had a good 1 in 5 ratio of photographers. So we're all over Flickr like an unidentified stain!
http://www.flickr.com/photos/kainproductions/1348659596/
and this!
http://www.flickr.com/photos/meredithhaspictures/1347663689/
And this!
http://www.flickr.com/photos/dietrich/1347279423/
And Brian McDermott created a slideshow of the event with Lady Lovely narrating!
http://www.brianmcdermott.net/artparade.html
He also shot this photo of Me, Molly, Lady, and Pandora at the end of the parade, smiling and looking amazing despite being severely dehydrated!
See ya next year you crazy diamonds.
-JL
-----
RSS
NYC Events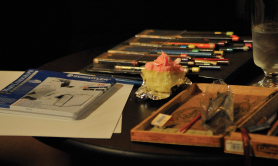 Art Tumblr
The results of tonight's Dr Sketchy's session :D
http://drsketchy.tumblr.com/post/69489605480