Branch Blog - Manchester, England
Sun, February 05, 2012 • Dr Sketchy Manchester
Dr. Sketchy Manchester has been run succesfully over the last few years by Faye and Ruari who have now sadly left but happily handed it over to Lee Crocker to keep the Sketchy flame going strong!!
Lee is an Artist and lover of drawing who works at Bury Art Museum and helps run The Bury Collective. Although Lee will keep the feel that Faye and Ruari created going, he also hopes to add a new edge to it with different performers and Venues, including The Three Minute Theatre and Bury Art Museum.
Here's to more sketchy fun with great performers,models, venues, games, drinks,atmosphere and wonderful music!
Looking forward to seeing you all with your pencils at the ready !
RSS
NYC Events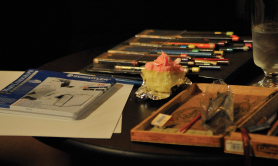 Art Tumblr
The results of tonight's Dr Sketchy's session :D
http://drsketchy.tumblr.com/post/69489605480