Branch Blog - New York, NY
Thu, August 31, 2006 • Natural Endowment for the Arts

Before we get into this, perhaps some introductions are in order. Hello! My name is Syd. This is what I look like without clothes on:
Your usual blogger John Leavitt is a creature of the night whose ways are known only to mystery. Sometimes he will inexplicably vanish, leaving no trace, and when that happens, I have to fill in as doorboy/blogger for Dr. Sketchy's Anti-Art School (New York Chapter). If I had to venture a guess, I would say he was probably staked out in front of his local record store in order to be first in line to buy Veruca Salt's upcoming album VSIV, to be released on September 12th. I could understand why someone would be excited for this album that has been 6 years in the making, considering the demos available on verucasalt.com and MySpace - as well as last year's EP Lords of Sound and Lesser Things - seem to presage some of the best work of rock and roll goddess Louise Post's career. I would imagine that on the day of the release, hordes of fans will rush to the record stores, and when confronted with the reality that the production of the album could not possibly keep pace with the feverish demands of the buying public, will revert to an animalistic state and will go into a frenzy like piranhas at the site of a kill. For not having claimed my position in line early enough, it is my fate to face the inevitable madness, but it will have been worth it to have borne witness to the majesty that is The World Famous *BOB*.

No, no, I mean a different world famous Bob…

A good guess, but still the wrong Bob…

Oh come on! Now you're not even trying!

Are you quite finished?

That is The World Famous *BOB*!

Here she is preparing to administer some sort of examination.

It is plain to see why *BOB* is the Burlesque World's favourite palindrome, but at Dr. Sketchy's Anti-Art school, it is the talented and sexy artists who are the real stars.

Oh, I'm just pulling your leg! Bob's the real star! Here's some more of her:

For those of you who are wondering, that is a glass of water and cherries that she is eyeing with such a passionate yearning. Oh, the mysteries of modeling…

Well, the hour has grown late and the time has come to say goodbye. Thank yous are due to Ryan Roman for the lovely photos, to The Engraving Shack (easily one of the best places to get things engraved), and Molly Crabapple, who doesn't get thanked nearly enough. We'll see you next time.

-Syd Bernstein
RSS
NYC Events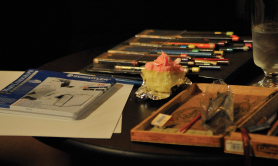 Art Tumblr
Dr Sketchy's LA 12/3/13 (pt. 1)
artofach.blogspot.com
http://drsketchy.tumblr.com/post/69132640329