Branch Blog - Anaheim, CA
Wed, October 26, 2011 • Coming Soon in Anaheim! Nerdgasm: All Day Drawing Event!
Calling all Art Monkeys!
Dr. Sketchy's Anaheim presents a special all day figure drawing event hosted by the Rothick Art Haus. Join us as classic chapter models join new models in exhibiting their favorite sexy nerd fantasies through long and short pose sessions.

Date:
Saturday November 5th
11am to 10 pm

Session Schedule:
11am to 2pm - Savannah "Barbarella" Rose
3pm to 6pm - Krystal "Bubble Goth" Kaos
3pm to 6pm - Long pose with Heather "Tank Girl" Conlin
7pm to 10pm - Phoebe "Princess Peach" L'amour

Cost:
$35 At Door

Location:
Rothick Art Haus
170 S Harbor Blvd
Anaheim, CA 92805

We hope to see you all there!
RSS
NYC Events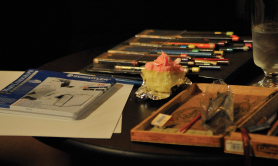 Art Tumblr
https://vimeo.com/81362468