Branch Blog - New York, NY
Tue, June 23, 2009 • NESFW
Hello-a there, Art-a Monkeys! It's-a me, Syd Bernstein, with another edition of Dr. Sketchy's Anti-Art Blog! At our last session, we had the nerd's dreamgirl, the one whose picture you hang on the wall of your mother's basement, the Penthouse Pet with her own Darth Vader t-shirt, the one and only Justine Joli! The session was Nintendo Entertainment System themed, so all of the gamers could bask in the 8-bit nostalgia. For the Sega partisans like Dolcy who required twice as many bits for their entertainment and for losers like me whose cruel, miserly parents wouldn't buy them a video game console when they were children, we had two of the greatest breasts on Earth. So there was something for everyone!
WARNING!
Some of the photographs in this entry contain graphic evidence that our model is, in fact, a mammal. I won't beat around the bush - NIPPLES. These pictures show nipples. I understand that this is a touchy subject, because - although I see nipples every day, as, I would suspect, do most of the readers of this blog - I have heard that there are those who are offended by such anatomical protuberances. I imagine they must be the sort of people who, owing to some birth defect, do not have upper torsos; who were bottle-fed as infants; and who, due to the deep and powerful insecurities that their condition caused, could never sustain such a relationship as would reach the "second base" stage. Actually, come to think of it, that would be the sort of person who would most appreciate these photographs. Maybe some people have the legitimate moral concern that the sight of such a perfect body would cause them to renounce their God and dedicate their lives to the service of these nipples. My only advice is to exercise caution and to recite the Shma before and after viewing.


Is anyone offended yet?
How about now?
Now, a special treat for those of you wondering how those left-handed drawing contests are done:
Here, the contest is announced by hosts Molly Crabapple and John Leavitt. The model looks on with a knowing and devilish grin.
Then, the model chooses a pose that is most conducive to drawing with a non-dominant hand.
The audience volunteers their work for harsh and final judgement.
The entrants are judged.
And pictures are taken of the whole thing! That is how it is done.
Our second contest was to show Ms. Joli defeating the end boss, King Koopa. That's King Koopa, not Bowser. I don't know where this "Bowser" bullshit came from, but Koopa is the name Shigeru Miyamoto gave him and it's what he was called when I was a kid and it's what he should still be called. 大魔王 クッパ (Daimao Kuppa) is a fucking fire-breathing demon turtle who kidnaps princesses and murders plumbers, not a singer for Sha-Na-fucking-Na.
For this drawing, the winner was awarded a book from our fabulous and fantastic sponsor, Baby Tattoo.
In case you were wondering what 80 people drawing looks like, that's it.
Justine, like most gamers, can't stand being interrupted in the middle of a game for any reason.
Here, an Art Monkey enjoys his prize for the best crossover of Justine with a video game franchise.
Here is Molly, showing off the drawing skills that have made her an international superstar.
Here, John poses next to his best friend - alcohol.
Hey! Does anyone remember the old Legend of Zelda cartoon show? Now, I don't blame Zelda for her reluctance to kiss Link. After all, he is sort of a creep. But it seems to me that what he really wanted was to be excused, and she wouldn't do it! Not once did she excuse him! That vindictive harpy!
(This video is for those of you who don't get the reference. As a side note, I excuse Steve Martin all the time!)
If memory serves correctly, the last contest was the best incorporation of a peripheral gaming device. I suppose that a dildo is a peripheral device in the same sense that a narwhal is. Maybe I'm wrong about what the contest was. But every time I try to think of a common thread between the entrants, I draw a complete blank, especially, when I factor in the following two drawings, for which I have absolutely no explanation:
So, with the mystery of those images burned into your mind, I'm afraid we're out of time. I would like to thank Justin Lussier for the pictures and Melissa, John, Ruth, and Foley (and anyone else who was involved) for the kickass set. See you next time!
RSS
NYC Events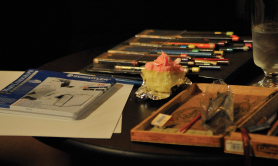 Art Tumblr
Dr Sketchy's LA 12/3/13 (pt. 1)
artofach.blogspot.com
http://drsketchy.tumblr.com/post/69132640329