Branch Blog - New York, NY
Wed, February 28, 2007 • Never Say Never Again!
Can you guess the theme of this week's Dr. Sketchys? Let me give you another hint …

"The Name is Walker."


"Steve Walker."

Ringing any bells? We had "The Spy Who Loved Me" playing? No? Oh well, you'll figure it out someday. Lady J blew in from Red Square to hand deliver important documents relating to the construction of SUPER AWESOME MODELING. Your mission, if you choose to accept it, is to oggle Lady J and the decadant goings on of Dr. Sketchys.
Photos by Ryan Roman. AKA Agent Bobo.
Lady J carries a double-o license to totally rule.
The entire Dr. Sketchy's cast and crew got into the act. I give you…Team Sketchy!
Agent Saint, Agent Lavender. Agent Lobsterorange, Agent Chutzpah, And Agent Hush. They know how to kill a man 17 ways with a gum eraser.
Agent Lavender is wearing the official Dr. Sketchy Toronto Buttons! The Principles of that fine chapter came down for a recon mission. I can only hope what they saw was …illuminating.
Agent Lobsterorange has been cleverly replaced with a FemmeBot in this photo. Unfortunately, she's stuck on "suspicious tart" setting and thus, useless in the field.
Go Team Sketchy!
An elite agent can maintain back-breaking poses for hours on end. They may attempt to disguise themselves as park statuary. You have been warned.
Agent Lavander and Agent Lobsterorange debriefing the Art Monkeys. Remember, you only have 60 seconds to dismantle the exploding sketch pad. In case of capture, cyindine pencils will be provided. You have your orders.
In keeping with our theme, we had contest winners grab thier prize at random from a mysterious briefcase. I wanted to be handcuffed to the briefcase, but everyone's handcuffs where either sticky or in the wash. You know how it is.
She won a copy of Pinky and the Brain Season 1, and he won this..
It says "Just Don't Talk". Always good advice.
Of course, it wouldn't be a rocking Dr. Sketchy's session without a special guest! Schaefer The Dark Lord! Geekcore Rappist who flings witty verses around faster than a…really..fast..thing.
I belive this was during his heartwarming ballad "Attack of the Clonefucker."
Lord and Lady. If I was Schaefer, I'd have this photo tattooed on my face.
And, lets not forget about art! Supposedly, thats what we're all about!
You people are way too talented for us. Seriously.
And now, farewell. Tune i next week when Aprella shall grace the Dr. Sketchy's stage.
-JL
P.S This post will self-destruct if blown up.
RSS
NYC Events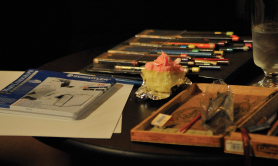 Art Tumblr
https://vimeo.com/81362468