Branch Blog - South Florida
Mon, July 18, 2011 • New Times Promotes the Launch of South Florida Branch!
Wanted: Artistic Debauchery By Betsey Denberg The thought of a life drawing class makes us yawn: spending our free night in a cold, fluorescent-lit room staring at a stale model surrounded by strangers. It did for artists Molly Crabapple and A.V. Phibes as well, and their alternative solution to the drab drawing-class environment became Dr. Sketchy's Anti-Art School. The duo got rid of using the same old stick-figure models: A wild array of ladies — burlesque babes, fetish beauties, roller derby girls, and drag queens — are brought in for your drawing pleasure. Everyone is welcome to drink and cheer and socialize (no awkward silences!). And don't even begin to worry about skill level — no formal training necessary. This craze, created in 2005 and originally based in Brooklyn, quickly swept the globe. It now totals more than 100 branches, and Thursday, it finally hits South Florida. The launch of Southeast Florida's Dr. Sketchy's Anti-Art School, put together by curator and President of Artistic Productions Charlotte Sundquist, will take place from 7 to 9:45 p.m. at Stage 84 Music Cafe (9118 W. State Road 84, Davie). For this debut event, four glamorous ladies from the Cupcake Burlesque Troupe will be on stage posing for your sketching enjoyment. Dr. Sketchy's Anti-Art School will be a monthly event, occurring every third Thursday, at Stage 84. Tickets are available in advance for $10 or can be purchased at the door for $12. Attendees should bring a drawing board or something sturdy to sketch on, a sketch pad, and drawing materials. Paparazzi, beware: There is a strict no-photography rule. Visit drsketchy.com/branch/southflorida.
RSS
NYC Events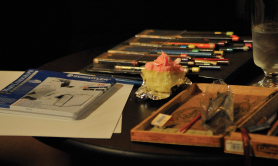 Art Tumblr
Dr Sketchy's LA 12/3/13 (pt. 1)
artofach.blogspot.com
http://drsketchy.tumblr.com/post/69132640329