Branch Blog - Chicago, IL
Tue, January 01, 2013 • New Year, New Sketchy's Chicago!
Hello to all!
This last year of Dr. Sketchy's Chicago has been magnificent! So many beautiful models, performers, and artists all converged bi-monthly to sketch, sip and socialize in a sexy, sizzling setting (how's that for aliteration?)
This new year, we're bringing some new things to Dr. Sketchy's! New games with goofy prizes, a variety of models both male and female, and new themes to play with for your drawing pleasure. Of course, we still will have the same shenanigans that come along with drinking, drawing and debauchery...
Join us for our next installment on February 16th 2013 with two...count 'em...TWO sexy models for a drawing experience unlike any other! Details coming soon!
Thanks so much for supporting art! See you soon!
RSS
NYC Events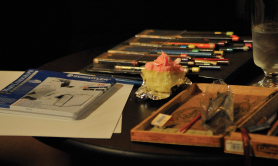 Art Tumblr
Dr Sketchy LA 12-3-13
http://drsketchy.tumblr.com/post/69027079376