Branch Blog - Baltimore, MD
Wed, July 31, 2013 • Next Dr. Sketchy's Baltimore is Aug. 12th with The Lady Satine!
Monday, August 12th, The Lady Satine is posing for Dr. Sketchy's Baltimore.
I hope you're in the mood for some life drawing and a beverage.
The Lady Satine comes recommended to us by Sabrina Chap. Normally, our gmail account routes all of Sabrina's emails to the trashcan—you know, musicians—but she thought The Lady Satine might be a good fit for your artistic muse. She's right.
The Lady Satine is a performer of the erotic and acrobatic variety, specializing in aerial dance and, and, well, acrobatics. Y'all are in for a treat. She's bringing her pole too, which is a first for Dr. Sketchy's. If you don't believe me, go check her Facebook page.
She's pretty amazing.
Not only that, but Turtle Creek Coffee is sponsoring another session! I'm not kidding, I drank a pot of that crack making the video for Cherie Sweetbottom's session and flyer you see above. Baby Tattoo Books is sponsoring as well with a new book to give away, so we're going to have all sorts of fun.
Our next session will be on a different day of the week ( September 7th, a Saturday night), and it'll be a little different than our regular sessions, so if I was you, I wouldn't miss this one.
Doors at 6, start at 7. 18+ to draw, 21+ to drink.
$10 at the door, $8 if you buy before the day of.
No photography or messy paints, please (watercolors are fine).
Like our page for the latest updates: http://www.facebook.com/DrSketchysBaltimore
Photo of The Lady Satine by Ben and Jodi Photography. http://benandjodiphotography.com/
***What is Dr. Sketchy's Baltimore? It's a local burlesque/cabaret-themed life-drawing session where you can draw a fabulous model striking a variety of short poses (ranging from 1- to 20-minutes long over the three-hour session)--plus, you'll have the chance to win prizes in some crazy drawing contests...and some folks have been known to have a drink or two. Drawing, prizes, and drinks--what more could you ask for?***
RSS
NYC Events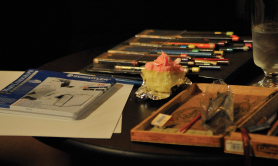 Art Tumblr
https://vimeo.com/81362468