Branch Blog - Baltimore, MD
Wed, January 16, 2013 • Next Dr. Sketchy's Baltimore is Jan. 28th with Rycin Von Schierling!
Monday, January 28th, Dr. Sketchy's Baltimore presents your first burlesque-y drawing muse of 2013—Rycin Von Schierling!
I don't know about you, but it's been a long dreary month since the last Dr. Sketchy's. Do you miss those pretty green and cream banners framing the stage? Do you miss that BADASS orange and yellow circus stage that elevates the model above the top hat that guy in the front row is yelling? Do you miss Alexis forgetting what she's saying and deciding the substitute a string of profanity for the last half of the spiel? Do you miss Alexis discovering what Aaron snuck into an event description and walloping him in the head?
Do you miss Russell?
Easy now—let's keep this in check.
The point is, it's been a while since we could sit down, twirl some pencils and brushes, twirl some pints of adult cheer, and try our best to do artistic justice to the muse gracing the stage of Dr. Sketchy's Baltimore.
Rycin Von Schierling is going to make up for all those dreary, overcast weeks you were trapped inside watching re-runs of NCIS while attempting to draw that dead potted plant gracing your windowsill these last 3 years. As wonderful as that plant may be, it can't hold a candle to the drawing inspiration Rycin has up her sleeves, the company of good friends, and a pint to wash away what, let's be honest, was way, way too much family time.
Doors at 6, start at 7. 18+ to draw, 21+ to drink. Show up early to get a good seat.
$10 at the door, $8 if you buy more than 24 hours in advance.
No photography or messy paints, please (watercolors are fine).
Like our Facebook page for the latest updates.
Photo of Rycin Von Shierling by Cameron O'Connell.
RSS
NYC Events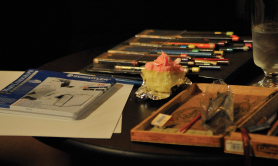 Art Tumblr
https://vimeo.com/81362468