Branch Blog - Baltimore, MD
Mon, April 16, 2012 • Next Dr. Sketchy's Baltimore is Monday, Apr. 23rd with Lauren Marleaux
Lauren Marleaux of Gilded Lily Burlesque will be posing for the next session of Dr. Sketchy's Baltimore!
Known to strike many a host mute with kittening skills, she causes out-and-out riots when she's not restricted to picking up errant pasties and sweeping away piles of wander-prone glitter. If I were you, I'd keep one hand drawing and the other ready to flip a table and bang heads together in case she's too much for the crowd and a melee pops off.
Do you want to be "that guy" who has to say, "Yeah, I missed it" the night Dr. Sketchy's Baltimore rioted over Lauren Marleaux and the Morton Street crowd slid Russell face-first down the bar like it was a spaghetti-Western? Do you really want to have been "washing your hair" the night Fred goes all Samson and pushes out the columns of the Windup?
Are you thinking, "Hell yes, I want to miss that! I want to DRAW, not end up on Fark News you crazy son of a bitch!"
Well, the drawing is going to be amazing. I didn't mean to scary you. I'm sorry. No, I mean that, I'm sorry. I'm SURE no one will really riot.
Maybe.
Doors at 6, start at 7. 18+ to draw, 21+ to drink. There'll be great prizes from Atomic Books and Baby Tattoo Books, not to mention beer specials from Flying Dog Brewery. Show up early to get a good seat, especially if you want a table to flip when the time comes.
No photography or messy paints, please (watercolors are fine).
Photo of Lauren Marleaux by Chery Fair, http://www.cherylfair.com
.
Like our page for the latest updates: http://www.facebook.com/DrSketchysBaltimore
RSS
NYC Events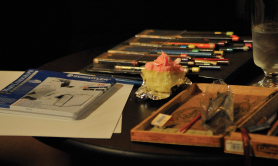 Art Tumblr
https://vimeo.com/81362468