Branch Blog - Baltimore, MD
Sun, November 20, 2011 • Next Dr. Sketchy's Baltimore is Monday, Nov. 28th with Paco Fish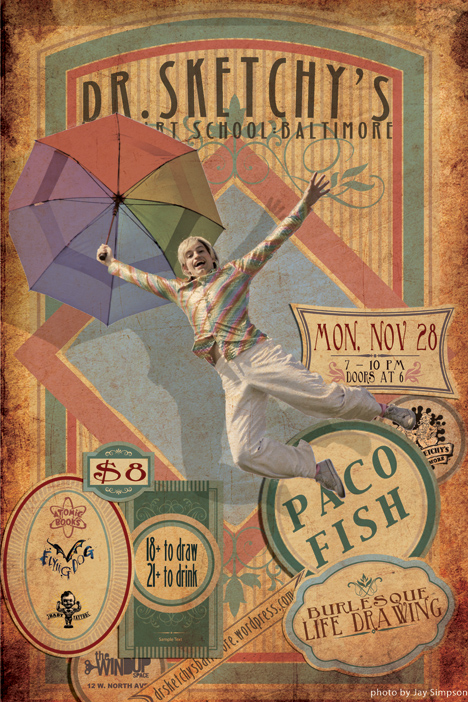 Only two Dr. Sketchy's Baltimore left this year!
Monday, November 28th, the day after Thanksgiving weekend, Paco Fish will blow your pencil's MIND. After four days of Aunt Mildred's green bean casserole, four days of Uncle Rupert's profanity-laced tirades at all the little men in the box who keep dropping the ball, and four days of every retail store bombarding you with "Store Approved Christmas Mix #3", you're going to need some Art.
Art and Beer.
Paco will help you with that. He'll be a blast of mental fresh air like . . . like . . like a fucking leaf blower stuck in your ear with the dial turned to AWESOME. Not only will Dr. Sketchy's blast all that Thanksgiving crap right out, it'll clean your sinuses.
Promise.
Now, let's take an aside here for a second. Alexis and I were sitting on the couch last week and she happened to start reading a Batman comic over my shoulder. ("WHAT? WHAT DOES THIS HAVE TO DO WITH DR. SKETCH...." HOLD ON A DAMN MINUTE, I'M GETTING THERE. JESUS CHRIST.)
She asked, "Who's that?"
"Bruce Wayne."
"Who's that guy?"
"That's Dick Grayson."
"What about that other one?"
"Damian. He's the new Robin."
"Oh. Why do all the guys look the same but it's easy to tell the difference between the women?"
"Why? WHY?! Because this guy is probably one of those guys who only goes to his local life drawing session when a woman is posing, that's WHY!" (BTW, I didn't actually yell at Alexis - I'm not suicidal.)
Yeah, that's right. We're on to you. We know some of you only show up when the pretty ladies are posing. Well, don't do that. Paco is one of the best models that will ever pose for you, period.
Yes, he has a penis. Don't be scared of it. Do you want all your Bruce Waynes, Clark Kents, Oliver Queens, and Miles Morales's to look like the same damn guy? Of COURSE not. Are all your paintings and drawings going to be filled with just the womenses? That would be just plain silly!
Don't skip. Don't let the penis win.
BTW, after an exhaustive search of the Internet, Alexis is fairly certain that last sentence has never been written before.
ANYWAYS, Paco is amazing. He's a vaudevillian genius. AND he's going to be posing in stilts for several poses! Holy crapolla! And he's going to do a performance, one that he can't mention without cackling! Add in prizes from Atomic Books, Baby Tattoo, and freaking beer specials from Flying Dog, and I can guarantee we'll wash away any horrible family incidents recently imprinted in your beautiful, beautiful heads.
Alright, now for the rigmarole...
Doors at 6, start at 7. 18+ to draw, 21+ to drink, 50+ for fisticuffs. $8 cover, no photography, no messy paints (ie, don't piss off Russell) (watercolors are fine).
Full details and FAQs at drsketchysbaltimore.wordpress.com.
Oh, and Alexis wants you to like the page: http://www.facebook.com/pages/Dr-Sketchys-Anti-Art-School-Baltimore/224701737547364 Sooner or later Facebook will randomly delete the Dr. Sketchy's group, then what will you do? Cry, that's what.
(Photo of Paco Fish by Jay Simpson. http://tboltkid.com/)
.
RSS
NYC Events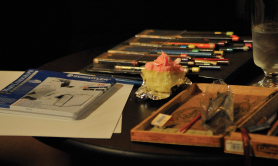 Art Tumblr
https://vimeo.com/81362468