Branch Blog - Baltimore, MD
Thu, August 30, 2012 • Next Dr. Sketchy's Baltimore is Monday, Sept. 10th, with Nona Narcisse!
Next session of Dr. Sketchy's Baltimore is Sept. 10th with Nona Narcisse of New Orleans' Slow Burn Burlesque!
Don't know who Nona Narcisse is? Watch this.
Honestly, some of the best drawings that have ever come out of Dr. Sketchy's Baltimore came out of that session. One artist, after missing the session and seeing the artwork and photos afterward, literally tried to throw herself into traffic. I wouldn't lie to you. It's not in my nature – well, maybe it is, a little.
Seriously, her last session was one of our favorite sessions of all time. Her poses were amazing, her costumes set a whole new bar, and her performance, as you can see, was jaw-dropping. People literally didn't know what to do with themselves afterward. Hell, we almost didn't even PICK that performance because there was another one we were absolutely in love with as well.
She's going to do the other one this time around.
Alexis swears it's one of the hottest things she's ever seen – maybe the hottest – and believe me, she's seen a lot of "hot".
I'm telling you – bring your best sketch pad and whatever pencils and brushes you've been keeping in that "Break in case of Emergency" glass case at home.
Doors at 6, start at 7. 18+ to draw, 21+ to drink. There'll be great prizes from Atomic Books and Baby Tattoo Books.
Tickets $10 at the door, $8 if you buy online at least 24 hours beforehand.
Show up early to get a good seat.
No photography or messy paints, please (watercolors are fine).
Like our page for the latest updates.
Photo of Nona Narcisse courtesy of Paul Oroszlàn Chéenne.
**What is Dr. Sketchy's Baltimore? It's a local burlesque/cabaret-themed life-drawing session where you can draw a fabulous model striking a variety of short poses (ranging from 1- to 20-minutes long over the three-hour session)--plus, you'll have the chance to win prizes in some crazy drawing contests...and some folks have been known to have a drink or two. Drawing, prizes, and drinks--what more could you ask for?**
RSS
NYC Events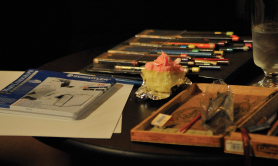 Art Tumblr
Dr Sketchy's LA 12/3/13 (pt. 1)
artofach.blogspot.com
http://drsketchy.tumblr.com/post/69132640329