Branch Blog - Baltimore, MD
Tue, September 18, 2012 • Next Dr. Sketchy's Baltimore is Saturday, September 22nd with Sophia Sunday!
This Saturday, Sophia Sunday of Gilded Lily Burlesque will be posing for your drawing pleasure at the first monthly Saturday session of Dr. Sketchy's Baltimore!
You know what that means, right? You can come drink and draw to your heart's content without having to worry about The Man hassling you the next morning in a quarterly project meeting about your TPS reports. Unless you're a priest. Or an altar boy, whatever.
That's right--no "work" the next morning, no "I've got a Monday night class," no "I don't do things during the week because of my television/couch schedule."
This is it. If you've been skipping Sketchy's for some dubiously responsible reason, well, Saturday is for you.
Doors will be at 3, start at 4, and the whole thing will wrap up at 7 in enough time for you to then get dinner somewhere and perhaps find even more trouble to get into after that.
Oh, and do we have the perfect model for your masterpiece aspirations. Not only is Sophia stunningly beautiful, she'll be showing off her singing chops in one of our favorite burlesque routines ever!
18+ to draw, 21+ to drink. There'll be prizes from our sponsor Atomic Books. Show up early to get a good seat.
No photography or messy paints, please (watercolors are fine).
Like our page for the latest updates: http://www.facebook.com/DrSketchysBaltimore
Photo of Sophia Sunday by J. M. Giordano http://jmgiordanophotography.com
RSS
NYC Events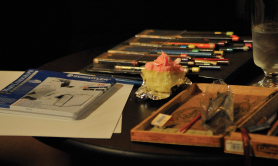 Art Tumblr
https://vimeo.com/81362468