Sun, February 05, 2012 • Next Session: Saturday February 18 - From Polynesia With Love featuring Polynesian dancer Liz
Come and draw lovely Polynesian dancer Liz at our next session:
FROM POLYNESIA WITH LOVE
Saturday February 18
3 – 6pm
at the Ruby Room
Drawing! Drinks! Contests! Prizes! Music!
Only $10!
Reserve your seat here!
At the Ruby Room
1271 University Ave
San Diego CA 92103 (map)
21 & up
Enjoy drawing, drinks and a carefully crafted music playlist (plus sweet Valentine's treats from us) and compete in silly contests for fabulous prizes!
Reserve your spot now for the best seats!
Bring your sketchpads and drawing implements.
RSS
NYC Events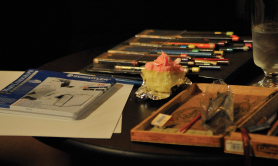 Art Tumblr
https://vimeo.com/81362468