Fri, November 11, 2011 • Next Session: Saturday November 19 - Food, Glorious Food featuring firewalker Vincent j
FOOD, GLORIOUS FOOD
featuring art model and firewalker extraordinaire Vincent j
Saturday November 19
3 - 6pm
At the Ruby Room in Hillcrest - 1271 University Ave, San Diego CA 92103 (map)
In honor of the feast that is Thanksgiving, come and draw firewalker extraordinaire Vincent j as a chef.
Join us for an afternoon of drawing, drinks, music, fabulous prizes and wacky contests. Bring a can of food or non-perishable food item for our FOOD DRIVE and receive a special Dr Sketchy San Diego gift in return!
21 & up
Only $10. Bring your sketchpads and drawing implements.
Reserve your spot here!
RSS
NYC Events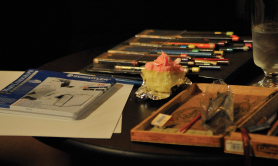 Art Tumblr
Dr Sketchy's LA 12/3/13 (pt. 1)
artofach.blogspot.com
http://drsketchy.tumblr.com/post/69132640329