Branch Blog - New York, NY
Wed, June 18, 2008 • No Smoking this Monday!
Greetings, gentle art monkeys: helper monkey Eve here, and Molly has graciously given me permission to plug my upcoming show here. No Smoking is a futuristic dystopian political letter to the babysitter state, and it is THIS MONDAY! That is, June the 23rd, one night only. The performance is at 8PM at Stage Left Studio, 438 W. 37th St. Suite 5A. Tickets are $15– buy them in advance at Smarttix, and make sure you select the performance on the 23rd.
There is a reception following, with wine and munchable goodies. Hope to see y'all there!
-----
RSS
NYC Events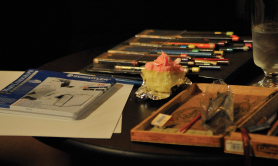 Art Tumblr
https://vimeo.com/81362468